Diecast Model Buses Impress in A Big Way!
By: Lisa O' Shields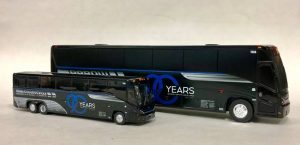 There's something to be said for the feeling a bus company owner must feel when viewing a new acquisition to the fleet as it pulls into the company's yard for the first time. Possibly sporting new graphics and costing hundreds of thousands of dollars, any operator would be hard-pressed not to smile, while appreciating that new buses are often the result of hard work and growing business. Of course, promoting a company is important if a company's buses are going to continue carrying passengers and creating revenue. So aside from being seen on the roads around town, operators are constantly looking to get the word out to prospects and to keep reminding existing customers to call them when transportation needs arise. Diecast models have long been used in the trucking industry as a hugely successful means of self-promotion. Lately, more and more motorcoach operators are "getting on the bus" and doing the same thing!
There's a tried and true, albeit somewhat mundane assortment of promotional items that companies have used for years. The pens, the calendars, foam stress buses, coffee mugs – all have been tried to help create brand awareness. Not necessarily impressive, but short of pulling up to each sales call in a company's new coach, an inexpensive marketing tool now being used by salespeople with a lot more impact, are die-cast model buses that replicate the real thing. There are few people in the bus industry who don't appreciate receiving one of these, and often they continue to display them on a desk or shelf long after the salesperson has left.
As opposed to years ago when promotional buses were oftentimes plastic and not built to the correct scale, the new age of die-cast metal bus models are generally licensed by the actual coach manufacturers and are therefore built using the same CAD (computer added design) files as the real buses, resulting in a very accurate replica including interiors.  While model buses have been used in Europe where an established operator and collector base thrives on them, the selection of late model, North American bus replicas has been limited. That is until about two years ago.
Florida-based Industrial Diecast Design, a company specializing in the design and manufacturing of diecast models for industry since 2002, has developed a growing line of bus replicas under their Iconic Replicas brand. Focused on model buses specifically from the streets of North America, IDD now offers highly detailed bus models that can be fully customized graphically in batches as small as 300 pieces. The pad-printing technology they use as opposed to the previously popular vinyl decals that tended to fade and peel over time, allows for sharp looking, permanently colorful graphics.  Whether the smallest DOT number or a mural of colorful images covering the side of a bus, there is almost no limit to what can be sharply printed on a die-cast bus model. Then, parked on a desk or shelf, diecast bus replicas work as an ongoing, subliminal brand reminder. In addition to customers and prospects, oftentimes company employees are also eager to own a model of their company's bus or even to also give these away as gifts to friends and family.
Several bus manufacturers have engaged IDD to build replicas that release concurrently with the real models buses for use at industry trade shows. Alexander-Dennis with their North American Enviro 500, Motor Coach Industries including the J4500, D4505 and D45 CRT LE, 40' and 60' Xcelsiors from New Flyer Industries, Temsa's TS35E and Maraton and the complete range of North American Van Hool products comprised of the CX35, CX45, TX45 and TDX.
The IDD portfolio of satisfied clients continues to grow. Since 2016 some 70 different fleet operators have had promotional buses made. From the biggest carriers to smaller charter operations, as well as more than 30 transit agencies around North America. New York City to Los Angeles, Vancouver to Miami – time and again, transit agencies are finding that demand from their ridership and employees for model buses in their pop-up or online stores, is much larger than they could have anticipated.
The model bus ordering process is as easy as contacting IDD, transferring graphic files, approving a sample and then waiting for the final products to be delivered. Director of Innovation and Design, Jeff Silver, a passionate bus fan for over 30 years, considers each new bus project his team produces to be a miniature work of art.  "When a client is holding a replica we produced of one of their fleet's buses, smiling and exclaiming, "this is so awesome!", then we know our work was done right!"  Attention to detail is paramount at IDD, and each piece they manufacture is scrutinized for build and graphic quality, ensuring total customer satisfaction.
With a four-month delivery window, IDD Replicas has developed an impressive and growing line of promotional bus models that has customers suitably impressed. Whether they choose to display these or roll them around desks while making bus sounds behind closed doors, the allure of a shiny new bus replica is part of why these model buses have an especially big impact, despite their small size!
For more information, click IDDReplicas.com or call 866.277.4775.