Motor Coach Industries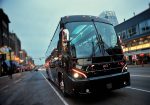 Business Name:
Motor Coach Industries
Long Business Description:
Motor Coach Industries is North America's leading public and private market motor coach brand, building the industry's best-selling J4500 coach, its smaller version J3500 and the new battery-electric zero emission J4500 CHARGE™.  In addition to the J series, MCI builds the Buy America-compliant and Altoona-tested D model series, including the ADA-accessible D45 CRT LE Commuter Coach, the battery-electric, zero-emission D45 CRT LE CHARGE™, the all new private-sector D4520, and the public sector D45 CRT.
All coaches are backed by MCI support services including in-field expertise, a technical call center and 24/7 roadside assistance; ongoing technical training from the industry's Automotive Service Excellence (ASE) accredited MCI Academy technician training center; parts support from NFI Parts; MCI Service Centers; and on-the-go support with the MCI Operators App and MCI Companion App.
Together with New Flyer, we're home to America's largest and trusted team of bus and coach experts, relentlessly focused on customer care and dedicated to supporting the reliability of your fleet, the resiliency of your operation, and the safety of your passengers.
Motor Coach Industries
200 E. Oakton St.
Des Plaines, IL 60018  USA
Send Message to listing owner
Listing Title: Motor Coach Industries