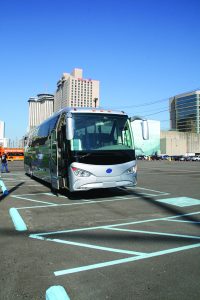 The United Motorcoach Association (UMA) held its annual Motorcoach Expo in New Orleans from January 18-22, 2015. This marked the 31st annual event since it was founded in Nashville in 1984. Once again it was combined with the National Tour Association (NTA) into the Travel Exchange. The UMA Motorcoach Expo is primarily a trade show for private motorcoach operators while the NTA event brings bus and group tour planners together with the suppliers for that industry. It was possible to walk between the two shows when both were in progress.
Many of us were delighted with the weather that required nothing more than a light jacket. There was shuttle service from the primary UMA hotel, the Marriott on Canal Street, but many attendees stayed at hotels adjacent to the Ernest N. Morial Convention Center on the Mississippi River and simply walked over. Keeping with tradition, both the food and streetcars were major attractions for those attending the shows.
Changes, Trends and News
We noted two major changes with past procedure at this Motorcoach Expo. In recent years it had been a tradition to schedule a "Sneak Preview" of the exhibits on the first night from about 4:30-7 p.m. That was followed by individual dinner gatherings by manufacturers and suppliers or dinner on your own. This year, the Sneak Preview was scheduled from 6-9 p.m., which tended to preclude any outside dinner parties.
Expectedly, reaction to this change was mixed. One manufacturer was pleased about keeping the crowd closer to the displays, buses and salespeople while another missed the opportunity to leave and meet separately with customers. Some people mentioned that the convention hall food did not match the sit-down dinners usually provided by the suppliers while others commented on keeping the booths open this late.
Some of the exhibitors told us that they appreciated the new arrangement because it allowed them to grab something to eat and then go back to their booths to entertain customers. I was delighted because the convention center turned on the bright lights well before the show, which permitted me to get a great start on photographing the buses on the show floor. This "kept me ahead of the curve" for the remainder of the show.
A second change was less emphasis on outside inspections and test drives during the regular show hours. In the past it was typical for the manufacturers to have one or more vehicles outside for inspections and test drives during the show. While I did note that Alliance Bus did have two CAIO coaches in an adjacent parking lot, the test drives were planned for Wednesday afternoon when the buses on the show floor would be available for this purpose.
An ongoing trend continues with more emphasis on electronics and safety systems. Tire pressure monitoring, engine compartment fire detection and various collision avoidance systems are getting to be more typical than not. Three-point seat belts and 110-volt outlets are getting to be standard equipment. Clearly, technicians with iPads are replacing mechanics with wrenches.
Particularly noteworthy at this show was less emphasis on body-on-chassis buses, particularly cutaways. The five cutaways on the show floor came from only three manufacturers and only three of them were new and offered for sale. At the same time there appeared to be an increase in interest in transit and sightseeing buses. However, I would note that part of the cutaways and transit buses on the show floor were related to ABC Companies.
What's new at this show? There are people who take the position that nothing ever happens in our industry and we need to schedule shows every two years like Busworld in Europe. On the other hand, if you follow me around the show floor and ask questions you might be surprised at all that is new, different and interesting.
Here is a quick list that I plan to explain in more detail later: the first battery-powered coach from BYD, the new stainless steel CAIO coaches, a new model from BCA as well as a date-based leasing program, and the first UMA showing of ZF axles on MCI coaches. In addition I can list the new Bonluck bus from China, the new Stallion Angel Trax bus, pending double-deck production, the new TDX double-deck and announced 35-foot Van Hool, and the American-built commuter coach from Prevost.

Buses on Display
I counted a total of 19 coaches, four cutaways, five other buses and one pickup truck on the regular show floor. In addition, there were nine coaches and one cutaway on the used bus row. Hence, we found a total of 39 vehicles. Here is some information on most of them with emphasis on what is new and different.
Coaches
Over-the-road coaches represented the single biggest group with a total of 18 buses displayed for sale. Five of the major coachbuilders showed three coaches on the show floor, but it may be that this was the logical number for the standard booth size.
Motor Coach Industries (MCI) had three coaches on display. Since this was the first UMA show since the introduction of the new ZF axles and Bendix brakes, a new J4500 was positioned on a Stertil-Koni lift. This gave attendees a good opportunity to see all of the equipment on the underside of the coach. The new ZF axle system with independent front- and tag-axle suspension provides tighter turning and a better ride. The new Bendix braking system offers smooth stopping and provides the Wingman system, a radar-based adaptive cruise control and collision mitigation system. See the September, 2014 National Bus Trader for more information on the ZF axles and Bendix braking system.
A second J4500 was on the floor so that attendees could enter it and see the interior that included REI electronics. See the October, 2014 issue of National Bus Trader for our test drive of the J4500. The third coach was a Setra TopClass S 417. This coach was equipped with a center door, a lower level restroom and the lounge area in the rear.
Several different topics came out during the MCI press conference. It was stressed that MCI wants to be the best partner to their customers by improving quality at the source, similar to the Toyota system. MCI already has nine people working closely with suppliers to improve reliability and total cost of operation. It was noted that warranty work is now down by 40 percent.
Parts and service support has been improved in recent years and MCI now has high fill rates on shipping parts. Training on line and remotely has been enhanced. MCI is now offering a learning management system. The Bendix Wingman system has been enhanced to the next step and now provides collision avoidance even without the cruise control mode.
It is noteworthy that the Setra coaches, that are completed in Ulm, Germany, can be ordered with optional interiors. It was noted that about 60 percent of the Setra orders are for the TopClass S 417 model that is optionally available with a center door, lower level restroom and a rear lounge area. The companion ComfortClass S 407 accounts for the rest of the Setra orders.
Three coaches were on display in the Prevost booth. A 2015 H3-45 model had a Volvo D13 engine and an Allison B500 transmission. It was equipped with Amaya Torino A210 seats and 110-volt outlets. At the other end of the booth was a Volvo 9700 with a full wrap exterior featuring Volvo Ocean Race graphics. It had a woodgrain floor and three-point seat belts.
At the rear of the booth was an X3-45 Commuter coach with a wheelchair lift and "Made in the USA" lettering on the side. It had five seats in the back row but no restroom. Prevost is now building commuter coaches at the Nova Bus facility in Plattsburgh, New York which makes them compliant with Buy America provisions. Prevost is currently filling a commuter coach order for New York.
Other recent news from Prevost includes the recent movement of their Houston Service Center to 11851 Cutten Road in Houston. The new 21,000-square-foot facility has seven full-service bays, a large parts warehouse area, a training room, a customer lounge and a larger parking area. Prevost also recently added a second Mobile Service Truck in the Montreal Area. This brings the total of Prevost Mobile Service Trucks around the United States and Canada to 32 vehicles.
CH Bus Sales had their family of three Temsa coaches on display. Built by Temsa in Turkey, the coaches have full integral stainless steel construction. The 35-foot TS 35 model on display had a Cummins ISL 8.9 liter 345 horsepower engine and an Allison transmission. Introduced to the American market in 2008, it has become the overwhelming market leader in 35-foot integral coaches.
Also on display was the 30-foot TS 30 model that was originally introduced to the American market in 2012. This had a Cummins engine and an Allison transmission. It was painted for Hampton Jitney and was equipped with a wheelchair lift.
The third coach on display was the 45-foot Temsa TS 45 model. Introduced about a year ago, this 45-foot Temsa now gives CH Bus Sales a family of three different coach lengths with integral stainless steel construction. This coach was equipped with a Cummins ISX-12 425 horsepower engine and the Allison Gen 5 B500 transmission. It offers a 30-month/250,000-mile warranty and had a wood floor. See the March, 2014 issue of National Bus Trader for our test drive article.
The TS 35 coach was auctioned off at the CH Bus Sales booth on Monday night with proceeds going to the Motorcoach Marketing Council. Serving as auctioneer for the Temsa coach and a few other items from other coach manufacturers was Ronald R. Bast. In addition to being the CEO of Go Riteway Transportation Group in Germantown, Wisconsin, Bast is also the owner of Bast Auction and Appraisal. The winning bidder was Harry Stout of Stout's Transportation located in the Princeton, New Jersey area.
Another booth with three coaches on display was Alliance Bus Group. They showed three different CAIO coaches built in Brazil. Included was their 45-foot G3600 model that had been on the market for a while. Their big news was the introduction of two new models that are both ?integral and built using stainless steel. Unless I missed something, this means that there are only two coach makes currently on the market not offering a stainless steel product.
In addition to stainless steel integral construction, the new 45-foot CAIO S3645 offers high U.S. content, a Detroit Diesel engine and huge underfloor capacity. Noteworthy features include ZF axles with independent front suspension, larger restroom tanks and a redesigned dash. The basic price point is in the range of $460,000 to $465,000. This one was already purchased by ACR Coaches in Starkville, Mississippi, a company already operating six CAIO coaches.
Like the longer 45-foot coach, the shorter 36-foot S3436 also uses Freightliner running gear including a Cummins engine and stainless steel construction. It seats 38 passengers.
More information on the new stainless steel CAIO models can be found in the February 2015 issue of National Bus Trader.
Bus and Coach America Corporation (BCA) planned to have a coach on display on the show floor but the timing did not work out. They did have a booth and had several announcements. Among these is that sales, parts and support for BCA coaches is available from Matthews Buses. This was covered in an article in the February 2015 issue of National Bus Trader.
The 45-foot BCA 45 coach is being improved with an upgraded interior, a larger parcel rack with doors, 110-volt outlets and woodgrain flooring. A previously-mentioned two-axle 40-foot coach will be available in April and May and is being built at a different factory than the BCA 45. Due to customer requests, BCA will be adding a second 40-foot coach to its product line. This will be a heavy-duty version two seat rows shorter than the 45-foot coach with a length of 40 or 41 feet. It will have three axles, be powered by the Cummins ISX engine and will have several features similar to the 45-foot coach.
One of the more noteworthy developments is a new leasing program from BCA. Operators will be able to make arrangements for leasing a coach for certain busy months of the year or for a specific number of years for a contract.
There were two display areas for ABC Companies; the one showing Van Hools had three coaches. On display was a 2015 Van Hool CX45 painted red with a Detroit Diesel DD13 EPA 2013 engine and an Allison B500 transmission. It had 54 Van Hool Grand Luxe 210 seats with three-point seat belts. Also on display was a 2015 TX45 painted red with a Detroit Diesel DD13 EPA 2013 engine and an Allison B500R transmission. It had 64 Van Hool Grand Luxe 210 seats.
The third coach was the new double-deck model designated as the TDX that replaces the TD925. It was powered by a Cummins ISX 12.0 liter engine with an Allison B500R transmission and had 81 Van Hool Grand Luxe 210 seats. Improvements over the previous TD925 model included a revamped driver's area as well as new front and rear caps.
What might be the biggest news at ABC is the announcement of a forthcoming 35-foot coach to be designated as model CX35. It will be very similar to and use many of the same parts as the CX45 in order to keep it compatible with other Van Hool coaches in the fleet. It will come with the Cummins ISL 345 horsepower engine and an Allison B500 transmission and seat 38 passengers. One major difference is that the CX35 will have 295 tires instead of the standard 315 tires. It will be built at the Macedonia plant and is expected to debut in October or November of 2015.
For those readers who are not aware, I might mention that the TX45 and TDX ?double-deckers are American versions of Van Hool models also sold in Europe. The CX45 and the new CX35 are designed specifically for sale in America.
What is probably the most important debut at this show comes from BYD, a Chinese battery manufacturer that has developed and sold battery-powered transit buses in several countries around the globe. What makes this show different is the introduction of a battery-powered motorcoach that is the first on the market.
On display was their 40-foot, battery-powered intercity coach. The coach shown had a length of 39 feet and four inches, a width of 98.4 inches and a height of 139.8 inches. It had a range of approximately 175-190 miles on a single charge. It could seat up to 49 passengers, had a top speed of 62.5 miles per hour, and could be recharged with a 300-amp charging system in about an hour. Power was provided by BYD's drive axle that incorporates electric motors in the wheels.
A similar 45-foot coach is available that can seat up to 58 passengers and comes with ZF axles and a width of 102 inches. Also being offered is a shorter 23-foot coach that will seat up to 21 passengers and has a width of 81.1 inches. It was mentioned that these coaches could be built at BYD's facility in Lancaster, California. Regenerative braking is optionally available. While the batteries are expensive, the electrical charge to run the coaches is reportedly generally less expensive per mile than diesel fuel.
As a note, I would add that the new vice president of sales at BYD is Macy Neshati. Neshati was with Transit Sales International and Complete Coach Works for many years where they developed their own ZEPS battery-powered bus. The fact that he is now responsible for sales at BYD is noteworthy.
Another coach debut at this show was provided by CHTC (USA), Inc. On display was a 45-foot coach known as their model HT 45. It was 45.5 feet long, 102 inches wide, had an overall height of 12 feet and four inches and offered a standard seating capacity of 56. It was powered by a Cummins ISX 425 horsepower engine and was equipped with an Allison B500 transmission.
While the name is different, the builder has experience in this market. The coach was built by Bonluck Bus in Nanchang, China. For years this company built buses for BCI in Australia and for BCI in the United States. In recent years, Bonluck was acquired by CHTC, the China Hi-Tech Group Corporation, a state-owned company. It was originally created in 1998 and involved in the textile industry and has subsequently become involved in other industries.
The coaches are built with Australian steel and manufacturing procedures but there is no mention of stainless steel. CHTC is headquartered in Chino, California and has parts available at that location. They are currently looking for dealers. It was mentioned that a 35-foot model known as the HT 35 would be coming soon.
One of the more interesting developments was that Angel Trax had a new Stallion on the show floor. For years your editor has applauded Angel Trax for putting their bus monitoring and surveillance systems in a Stallion bus that they bring to many shows. It has not been seen for months and the reason is now obvious.
That earlier Stallion bus has now been assigned to another product line. In its place, and displayed on the show floor, was a new Stallion with a new interior. Exhibit Design Group International in Orlando is responsible for the specialized display in the new bus. According to information given to us, Stallion, which was originally based in California and then Indiana, is now headquartered in Brooklyn with a factory in Perth-Amboy, New Jersey.
Cutaways and Transits
Most of the buses on display that were not coaches could be classed as either cutaways or transits. Here is a list of display coaches for sale in this category.
Grech?Motors from Riverside, California had a large white cutaway on display that was lettered for Don Brown Bus Sales. Built on a Freightliner M-2 chassis, it was powered by a Cummins engine. The executive-type interior boasted overhead ducted air, overhead parcel racks and three-point seat belts.
Falling into this category was the second booth area for ABC Companies. On display were two Ameritrans cutaways and two New Flyer transit buses.
Painted light gray was an Ameritrans 2015 M-2?Vista built on a Freightliner chassis. Electronic equipment included a 27-inch LED monitor plus three other passenger monitors as well as a back-up camera. The second Ameritrans cutaway was a 2015 E285 built on an E-450 chassis. It was painted black and had a 32-inch flat screen monitor on the back wall. Ameritrans is based in Elkhart, Indiana and is owned by ABC?Companies.
About a year ago ABC?Companies partnered with?New Flyer of Winnipeg to sell their transit buses to private operators including airports and universities. As a result, two New Flyer buses were on display. One was a 2015 New Flyer Midi. It is a low-floor transit bus with a length of 35 feet and a handicapped ramp. The Midi was powered by a Cummins ISB engine and had an Allison B300R transmission. Also on display was a 41-foot 2015 Xcelsior transit bus. It is available in lengths of 35, 40 and 60 feet with a huge variety of power options including diesel, CNG, hybrid, trolley and battery-electric.
Roman Cornell announced ABC's plans for a New Flyer transit bus leasing program for operators. It will allow operators to lease transit buses for specific times for specific contracts. One side effect of the leasing program is that ABC will then have transit buses coming off lease that will be three to five years old for sale. Currently, relatively new transit buses are generally not available on the market.
Alexander Dennis showed their Enviro 400 on the show floor. This is a 36-foot two-axle, double-deck open top tourist bus that will seat up to 61 passengers without a wheelchair lift. It has a single door, is powered by a Cummins ISL engine and comes with a Voith transmission. Recent improvements include the move to a ZF rear axle, disc brakes on all wheels and an improved fuel tank capacity.
Also available is an Enviro 500 double-deck model with a closed top. It is powered by a Cummins ISl engine and comes with an Allison transmission. The Enviro 500 has two doors and can seat up to 86 passengers without a wheelchair lift. Both models are being assembled by ABC at their facility in Nappanee, Indiana.
Easily among the more interesting buses on display was the one found in the booth belonging to American Double Deckers. Painted a bright orange, this two-axle open top double-deck was powered by a Cummins engine and an Allison transmission. It is available with a maximum length of 40 feet, a maximum width of 102 inches and a height of 121⁄2 feet.
A remanufactured version is available using a low floor Gillig chassis.
Thomas Built Buses had a Transit Liner C2 on display. Painted white, it was basically a school bus design modified for commercial applications. It was powered with a Cummins engine and had an Allison transmission. The C2 is available in a wide range of wheelbases with seating up to 52 passengers. Propane power is optionally available.

Used Bus Row
As is typical at UMA, there was a row of used buses on display on the show floor. This year they backed up to the wall separating the UMA and NTA shows with the portal between the two shows between the used buses. Here is a list of what we found on Used Bus Row.
The first bus in line was offered by ?Prevost. It was a Volvo 9700 powered by a Volvo engine and equipped with an IShift. Painted a basic white, it looked very clean.
Next in line was a 2003 MCI D4500. It was offered by National Bus Sales in Tulsa, Oklahoma. The coach was powered by a Detroit Diesel Series 60 engine and had an Allison B500 transmission.
Alliance Bus Group offered the next two buses in line. The first was a 2012 CAIO G3400 painted white. It was 36 feet long with Freightliner components including a Cummins ISB engine and an Allison B300 transmission. Adjacent was a 2012 Turtle Top Odyssey XL. It was built on a Freightliner chassis and featured a woodgrain floor.
They were followed by a Prevost offered by John and Hillary Spellings of Busforsale.com from the Nashville area. This 2004 Prevost XL II had an Executive Day Coach interior and was called "Midnight Sun." It could seat from 20 to 22 passengers and had a wide range of features and equipment including an extensive entertainment system, a galley, in-motion satellite and an HD satellite system.
The last bus on display prior to the portal to the NTA show was offered by Bauer's from San Francisco. This was a 2005 Setra S 417 painted white. Bauer's provided a brochure showing about 60 vehicles for sale. It included limos, vans, shuttle buses, sprinters and coaches. All had passed the criteria for Bauer's pre-owned status prior to being offered for sale. The coaches included Setras, MCI J4500s, two BCI coaches, a Van Hool and a Temsa.
Following the break, the next bus in line was a 2008 D4505 offered by MCI. This is one of the popular re-energized units where MCI repowers the coach with an OE or remanufactured engine and transmission. Both Detroit Diesel and Cummins engines are offered along with either ZF or Allison transmissions. Much of this work had been done in Loudon-
ville but since that location was closed,
it has recently moved to other MCI ?facilities.
The final three buses on the used bus row were offered by ABC. This started with a 56-passenger 2008 Prevost H3-45 powered by a Detroit Series 60 engine and an Allison B500 transmission. It had been given a new front cap to make it look newer. Next in line was a 2009 MCI?J4500 with a Detroit Diesel Series 60 engine and an Allison B500 transmission. It also had received a new front cap.
At the end of the line was a 2008 Van Hool TD925 double-deck. It was powered by a Cummins ISM engine and had a ZF AS Tronic transmission. It also featured 110-volt outlets.
Other Vehicles
There were three other vehicles on the show floor for some purpose other than sale.
UMA had their usual maintenance area on the show floor. Prevost supplied an H3-45 for use in this area. It was either painted a dark blue or black. Rick?Palmer and the people from Stertil-Koni had an Ameritrans cutaway on an E-450 chassis painted black. It was used to demonstrate their vehicle lift. In addition, there was a pickup truck on the show floor that appeared to be part of the Big Road display.
Shuttles were provided between the convention center and the Marriott on Canal Street. The other host hotels were so close to the convention center that attendees simply walked the short distance. The weather cooperated nicely.
Next Year
I am not sure whether it is a record or not, but I can claim to have attended 30 of the 31 Motorcoach Expo events since its founding in Nashville in 1984. If we ever have time, we should go back and look at some of the highlights of these shows and introductions of new models over the years.
In 2016, the UMA Motorcoach Expo returns to Atlanta, Georgia. The dates are January 31 to February 4, 2016. Once again, activities will be combined with the NTA in a Travel Exchange. q