Bitimec Wash Bots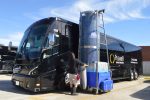 Business Name:
Bitimec Wash Bots
Long Business Description:
Bitimec's Wash-Bots are advanced, affordable Bus Wash Systems delivering positive ROI to Bus Fleets worldwide.
A single operator can wash up to 40 buses in one shift; each unit in 6-8 minutes.
The 15sq.ft. machines do not need a dedicated building and can be tucked out of the way when not in use.
101-BB
Our 101-BB electric machines are ideal for indoor and outdoor dedicated wash bays. This electric unit needs to be 'plugged-in' to electricity and water. This is usually done with a trolley (festoon) line, which hangs above the vehicle, overhead and out of the way. This particular machine can be used in wash bays as narrow as 17ft wide.
626-EZ
Model 626-EZ is a 24V-DC battery-operated autonomous washer. It has its own power, traction drive, carries enough water to wash 3-4 Buses at a time and has a built-in independent detergent application system. The big advantage of this machine is that it is not tied to the power cord or water hose. It is quiet and emission-free, and able to work indoors or outdoors, anywhere buses are parked on a paved surface. One full battery charge allows it to clean up to thirty 45′ buses. The EZ is our new model with improved controls, 4-wheel steering, which makes it easier to go around the corners of the bus. Stainless steel frame and base are warrantied against corrosion for life, along with the water tank. Brush-only inclination system is also standard; this helps wash the tapered areas of the bus. Charging time takes 6 to 8 hours using a standard 110V outlet.
Bitimec has pioneered the sector and is the market leader world-wide!
Send Message to listing owner
Listing Title: Bitimec Wash Bots