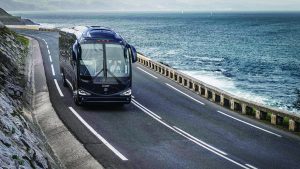 We have received several requests from readers asking about Irizar and their new i6 coach on the American market. Irizar is actually quite well known and respected on the European market. They are a major exhibitor at the European bus shows we attend, particularly Busworld. Although based in Spain, Irizar has additional facilities at other locations including Brazil, Mexico, South Africa and Morocco with production as high as 3,000 buses annually. In addition to bus building, the Irizar Group also owns Hispacold, a company that makes air conditioning systems for buses, and Masats, the maker of automated coach doors and ramps.
A Little Bit of History
Irizar is headquartered in Ormaiztegi, Spain. This is in the Basque section of northern Spain, only a little ways south of the Bay of Biscay (Atlantic Ocean) and not far west from France. It is one of the oldest companies in the transportation business and was founded by Jose Antonio Irizar in 1889. As far as I know, this makes it the oldest company selling buses on the American market.
Tradition holds that the company originally built iron fittings for carriages, but Irizar moved into building the vehicles too. In 1928, the company moved from horsepower to internal combustion. An existing customer, Julian Apaolaza, asked Irizar to build a bus body on a chassis he had purchased in France. In the years following, Irizar developed an enviable reputation for bus bodies.
After World War II, Irizar moved up from wooden bus bodies and began to incorporate metal into their bus bodies in 1948. This soon expanded into a range of metal bus bodies that became popular in many cities of Spain including Madrid, Barcelona, Malaga and Seville. In 1963, Irizar became a cooperative of staff members. This continues to impact the way the company does business with production teams, employee education programs and staff closely involved with management.
In the 1970s, Irizar's quality bus bodies became known internationally. Initial inroads were made in the French and Israeli markets and then throughout much of Europe and beyond. Eventually, Irizar captured 40 percent of the Spanish market and ranked as the second-largest bus body builder in Europe. Irizar introduced their appropriately named Century model in 1989 when the company celebrated 100 years.
In the United States, Metrotrans became interested in the quality coach bodies offered by Irizar and made arrangements to have some Irizar bus bodies built on Spartan ­chassis offering American components. Metrotrans sold these in 1998 and 1999. Unfortunately, the Atlanta-based Metrotrans organization had some problems with their own extensive production of smaller buses and sales ended.
Meanwhile, Irizar developed an enviable reputation for bus bodies in Europe and sales were impressive. The Irizar bodies were built on several different chassis including Mercedes, Volvo and Irisbus. However, a partnership with Scania developed the i4 model that mated an Irizar body with a Scania chassis. It not only became very popular in this market but also was purchased and operated in several countries. I rode one in the UK and discovered that the quality made it difficult to tell it from an integral coach.
It perhaps should not have been unexpected that several Irizar customers encouraged the company to take their quality and expertise into the integral coach market. As a result, Irizar began offering their new integral bus line in 2009. Their i6 coach was immediately popular and is currently operating in several different countries.
More recently, Irizar has expanded its bus product line in Europe to meet customer requests. The recent Busworld show in Kortrijk, Belgium in late 2015 saw Irizar introduce their new high-tech i8 coach model. That same show saw Irizar expand their transit bus line with the introduction of their new i2e battery electric non-polluting transit bus.
The Irizar Group is still headquartered in Ormaiztegi, Spain but has other facilities and subsidiaries in several countries. In addition to building buses, air conditioning and doors, Irizar Group is also involved in IT solutions, rotating machinery and components and equipment for the railway sector. Overall, the company has more than 2,600 employees and has its own research and development center. Annual turnover is $600 million US.
Introducing the American i6
Given the company's success in the European market as well as their presence in Mexico, it was perhaps inevitable that Irizar would look across the Atlantic to the American market. To their credit, they have put some time and effort into both a proven coach as well as developing a local organization that can expand into providing the support and service desired by commercial bus operators.
Irizar is offering their popular i6 model that has been very successful in Europe and elsewhere. More than 3,000 i6 coaches are already operating in several different countries. Irizar engineers took the basic coach and Americanized it for the U.S. market. The includes the typical American single-door with rear restroom configuration, an American drivetrain and other components that either are available or can be supported in the American market. Systems include both a lane departure warning as well as a driver fatigue detection system.
Irizar introduced their 12.2 foot high i6 model at the ABA Marketplace in January. This was followed in February by the introduction of a similar but 12.9 foot high model at the UMA Motorcoach Expo. The second coach is actually a high-deck version of the same model. The two models share the same components and systems with the 12.9 foot version simply offering more underfloor luggage space, an astounding 620 cubic feet of capacity.
Both coaches follow American standards with a length of 45 feet and a width of 102 inches. Both seat 56 passengers with a restroom at the right rear. Expectedly, the drivetrain also matches the American market with a Cummins ISX engine and an Allison B500 6-speed automatic transmission. ZF axles are used throughout with independent suspension on the steering and tag axles. There is both a 210-gallon fuel tank and a 15-gallon tank for DEF.
Construction uses high-tensile steel to reduce weight. This, combined with an aerodynamic design and efficient engine and transmission, tends to reduce operating costs.
The people from Irizar also point out that the i6 has been engineered to reduce repair and maintenance costs and to extend service intervals. Special effort has been put in to reduce the cost of serviceable parts and body parts and to increase residual value. Both front and rear lighting is LED with daylight headlamps and curve-following lights.
Both models of this coach are manufactured in Europe, primarily exclusively at the Irizar facility in Spain. Based on both a review of coach information and material from Irizar, it appears that these two i6 models are being positioned more as a higher quality charter and tour coach rather than a bread-and-butter line haul coach. Irizar mentions that their focus is on elegance, technology and sustainability.
Drivers will appreciate the spacious cockpit area with integrated dashboard screens. Both a preheater and cruise control are standard equipment. Gull-type rear view mirrors have only two panes and exceed all compliance requirements. An Actia reverse camera is also provided.
Passengers will like the Amaya Torino seats with three-point seat belts and footrests. There is a dual zone climate system that meets the needs of the passengers as well as the driver. Insulation in the engine compartment makes for a quieter ride. Interior lighting uses LED technology and the passenger convenience modules include a service and stop request as well as reading lights.
The standard entertainment system provides a 22-inch front monitor plus four 15-inch monitors as well as a Bosch DVD and Professional Line audio system. REI audio and video systems are also available. In addition, 110-volt outlets are offered for every seat.
There are several features of the Americanized i6 that Irizar points out. Among them is a composite pultrusion technology in the side panels that provides clean and straight exterior lines. The door opening system is robust and the luggage door opening mechanism is also proven and strong. Fenders for the tag and drive axles are easily opened. Aluminum parcel racks are both strong and spacious. Stainless steel aisle floor register covers are provided to access the engine compartment.
Over and above the standard equipment, Irizar offers a range of options. A wide range of finishes and various seat upholsteries are available. Among the entertainment options are a Wi-Fi system, an iPod connection, monitors that are integrated into the seats, individual audio, navigation and surveillance systems and even a number of galley and catering options. Wheelchair lifts meeting ADA requirements are available as is fire extinguishing equipment, air purifiers and other equipment and systems.
INA Bus Sales
To their credit, Irizar has indicated a desire to work closely with operators and to support their buses with parts and service. Their U.S. distributor is known as INA Bus Sales with the INA standing for Irizar North America. This company was founded by Mike Haggerty, who was also involved in bus operations and in the founding of CH Bus Sales.
INA is headquartered in Las Vegas which is also the main service center and location for parts distribution. New coaches will be brought in through the port of Galveston, Texas. A service center will soon be established in Texas to serve as a pre-delivery inspection location, service center and parts facility. Plans are to expand the service network and provide an Irizar authorized workshop within range of every operator.
For information on Irizar buses or INA Bus Sales you can phone (702) 427-2599.q