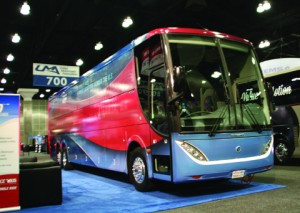 The United Motorcoach Association's annual Motorcoach Expo was held in Los Angeles in February. It was a special occasion since it marked 30 years since the first such event was held in Nashville in 1984. In those years, the sponsoring organization was known as the United Bus Owners of America (UBOA). National Bus Trader had a presence at all of those shows and your editor missed only one of them.
As with last year in Orlando, UMA's Motorcoach Expo partnered with the National Tour Association in the Travel Exchange. The combined events ran from Sunday, February 16 to Thursday, February 20. For a while, barriers were removed between the two halls so that people could move between the UMA/Bus side and the NTA/Tourism side. This allowed some rather extensive networking between tour suppliers, tour planners, bus operators, bus suppliers and others in the industry.
Many of the people we spoke with were very happy with the weather. Temperatures were shirt-sleeve weather and close to 70 degrees during the daytime for most of the show. This contrasted well with snow and cold weather in many parts of the United States and Canada. The downtown location was not so well accepted because of traffic congestion, lodging costs and a lack of open parking.
We were flattered at the number of people stopping at our booth to tell us that they read National Bus Trader from cover to cover. When the "Big Three" (MCI, Prevost and ABC/Van Hool) announced that they would only display a single coach at this show, there were concerns over what we would see. In fact we heard a few people suggest that nothing ever happens in this industry anymore.
Nothing could have been further from the truth. Our final numbers showed 37 coaches on the indoor show floor – 25 in regular booths plus another 12 pre-owned and historical buses in the back row. I counted eight cutaways, four transits and three historical buses. In addition, there were another seven or eight buses outside in back available for inspection and test drives.
We do not have records going back 30 years but this Los Angeles show certainly had more buses on display than we remember in recent years. More than one attendee noted that at least a portion of the increased number of buses on display is due to more diversity. While there were some new names showing charter and tour buses and coaches at this show, we did note an increase in cutaways and transit buses as well as some historical buses on the show floor. It will be interesting to see whether this diversity increases in future years.
Debunking that "nothing ever happens" thought, I can mention that at least eight of the buses on the show floor were debuts or at least their first time at UMA, ABC announced two new partnerships, and others announced new products. I filled up most of a pocket notebook with notes from this show and spent almost no time in our own booth because of this activity.
Here is a list of companies and buses on the show floor. I will try to present them in categories to make things flow more logically.
Coaches
CH Bus Sales/Temsa had the largest new coach display area at this show with three new coaches. The shortest coach was a 30-foot Temsa TS 30 with two axles and a seating capacity of 30 passengers. It was powered by a Cummins ISB 6.7 liter 250-horsepower EPA 13 engine and had an Allison B300 transmission. Additional features included three-point seat belts, Alcoa Durabrite wheels, an REI audio/video system, 110-volt outlets, a wood grain floor and LED headlights.
The two-axle 40-passenger TS 35 was powered by a Cummins ISL 8.9 liter 345-horsepower EPA 13 engine coupled to an Allison B500 transmission. Noteworthy equipment included cloth seats and essentially the same interior and exterior features as the TS 30.
Making its debut on the U.S. market was the 45-foot three-axle TS 45. It had a Cummins ISX 12 liter 425-horsepower EPA 13 engine and an Allison B500 transmission. Features were similar to the other two coaches but the TS 45 had a red carpet leading to the front door. The TS 45 now rounds out the CH Bus Sales product line by introducing a 45-foot coach to compliment the TS 30 and TS 35 coaches that were already being offered. Interesting features included Alcoa Durabrite wheels, an REI audio/video system, 110-volt outlets, a wood grain floor and LED headlights.
CH Bus Sales and Temsa held a press conference on Tuesday, February 18. Tim Guilden from CH Bus Sales explained about the committee of coach operators that were involved in designing the new TS 45 model to meet the needs of American operators. Dencer Celik, the general manager of Temsa Global, spoke about the increasing production numbers at the Temsa factory. In spite of the fact that the new TS 45 was making its debut, he mentioned that a fourth Temsa model for the American market was already in the works. This will be a short 25-foot coach but fully integral and "very affordable."
Bob Foley from CH Bus Sales then introduced the purchasers of the first TS 45 coach. This included Judy and sons Dennis and Dale Streif from Vandalia Bus Lines in Caseyville, Illinois. CH Bus Sales and Temsa were a platinum sponsor of this show. Several people commented that the CH Bus Sales booth became a gathering spot at the show as operators got serious about placing orders. Information we have suggests that Temsa has a substantial number of orders for 2014. We may have to start thinking of talking about the "Big Four" in the future and include Temsa in the inner circle.
As expected, Motor Coach Industries (MCI) had a 2014 J4500 model on display. It was powered by a Cummins ISX 11.9 liter 425-horsepower EPA 2013 engine and came with an Allison B500 transmission and the 3.42 rear axle. This coach featured restyled body lines, Alcoa aluminum hubs, an updated driver's dash and 52 110-volt outlets. It could seat 56 passengers in Amaya A-2Ten Seats featuring exclusive MCI head rests.
The MCI press conference on Tuesday mentioned increased industry sales and that MCI retains 40% of the market. MCI has optimized production using a process like Toyota. They now have three mobile repair trucks in operation serving the New York, Florida and California markets. An interesting point is that MCI combined their sales teams in 2013. Prior to then, there were different groups for private sector, public sector and Setra. Now the salespeople sell all products.
It was mentioned that MCI is working to improve total cost of ownership for its customers. One way of doing this is their current push for better fuel economy. Four coaches have been testing at the Bosch Proving Grounds in Indiana as well as a coach from another manufacturer. At 65 miles per hour, the coaches are showing 8.7 miles per gallon, representing a substantial annual fuel coach savings to operators.
Parked in back was the Setra S 417 TopClass coach with the center door, lower level restroom, the club corner lounge area at the rear and the TopSky glass roof option. This was the same coach shown at the ABA Marketplace in Nashville. MCI pointed out the number of options and customizing features available on the Setra that makes it an attractive vehicle for tours and higher class charters.
Prevost could easily be credited with one of the more attractive booths on the show floor because of special lighting and a projector screen on the side of the display coach.
On display was a Prevost H3-45 model. It had a Volvo D13 13-liter engine and an Allison B500 transmission. The interior featured Amaya Torino seats with A-2Ten seats and three-point seat belts. It was equipped with several safety features including Electronic Stability Control, Prevost Liaison 2.0 and Prevost Aware Adaptive Cruise Braking.
Exterior graphics on the coach highlighted the 90th anniversary of building Prevost buses. But, what really caught everyone's attention was a screen incorporated into the graphics on the side of the coach. An overhead projector turned the side of the Prevost into a movie theater offering different programs.
Prevost's major highlight at this show was their 90th anniversary of bus production started by Eugene Prevost in Sainte-Claire, Quebec in 1924 (see the article in the January, 2014 National Bus Trader for Prevost's history). The Prevost staff also mentioned that the recent appointment of Prevost as the Official Luxury Motorcoach of NASCAR has evolved into a Prevost NASCAR merchandise program. Items available include shirts, jackets, hats and backpacks.
Two other recent Prevost programs include a partnership with Hire Heroes USA to provide employment for U.S. Military veterans. Operators can post open positions for qualified drivers or maintenance personnel and Prevost is offering this service to all motorcoach operators at no cost. In addition, Prevost has teamed up with UMA and the College of Southern Maryland to build Prevost Prep, a school for professional motorcoach drivers.
ABC Companies had a new TX model coach on display. Painted blue, it featured a Detroit Diesel DD13 EPA 13 engine with an Allison B500 Gen 5 transmission. It was equipped with 56 Van Hool Body Line seats, an REI Elite Touch Screen entertainment system and an ISRI driver's seat. Some of us were fascinated by a trash chute towards the rear of the coach that led to a trash container that could be easily removed from the outside. This coach had already been sold to Premiere in Tennessee.
The TX model is the evolution of the former T2145 model and offers several improvements or changes. It grew 3.75 inches and now offers 464 cubic feet of luggage space without a lift. Several safety features, including lane departure and SmarTire, are now standard and the seat belts meet the new federal guidelines. Passenger capacity is now 56 because there no longer is a middle seat at the rear. Deliveries have already started on the TX model.
ABC Companies announced that it had received an exclusive agreement from New Flyer to serve as the exclusive distributor of their Xccelsior transit bus and new MiDi