TRW Integration, Autonomous Driving and More
By Larry Plachno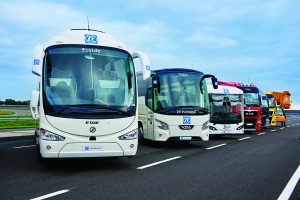 Once again, ZF gave the press an early review of what will be shown in September of 2016 at the IAA show in Hannover, Germany. Officially the Internationale Automobil Ausstellung, this show takes place in even-numbered years in Hannover and concentrates on commercial vehicles. Approximately 85 percent of the displays center around trucks, making it the truck counterpart to Busworld in Kortrijk, Belgium that takes place in odd-numbered years. It tends to be a very important show in Europe for commercial vehicles and ZF is a major participant.
This year the event was scheduled in late June and was particularly noteworthy because of ZF's 100th anniversary and acquisition of TRW in 2015. Expectedly, ZF has made some substantial advances in autonomous commercial vehicles since the previous event in 2014. Among the more impressive is the new Evasive Maneuver Assist developed by ZF in conjunction with WABCO. In addition to being able to see this new technology in action, your editor also had an opportunity to ride on an autonomous truck and to drive a 60-foot, all-electric transit bus.
One of the biggest topics at ZF right now is the integration of TRW. ZF was originally founded in 1915 to build high-quality and precision drivelines for Zeppelin airships. In fact, the ZF name comes from the word "Zahnradfabrik," which roughly translates as "gear factory." In subsequent years the company expanded into other industries with similar high precision mechanical products including transmissions, axles and steering. Completed on May 15, 2015, the acquisition of TRW brings in the technology and electronics expertise needed for the development of modern safety, collision avoidance and autonomous driving systems.
The acquisition of TRW gives ZF a larger global footprint and a greater presence in North America. ZF now has 138,300 employees at 230 locations in 40 countries. While Europe remains the largest region with 47 percent of company sales, North America has now grown to second with 44 locations and 28 percent of ZF sales. In addition to increasing automotive component sales in the United States, ZF now supplies axles for most coaches sold in the United States.
Management Updates
Those attending this event had an opportunity to hear presentations by ZF management and to meet with some of the ZF staff. It is noteworthy that Dr. Stefan Sommer took time from his busy schedule to address the group while in Aachen, Germany. He earlier served as the head of the Suspension Division of ZF Sachs AG. In October of 2010 he was nominated a member of the Board of Management responsible for Materials Management. He has been CEO of ZF since May of 2012. Recently, the Supervisory Board of ZF confirmed the extension of Dr. Sommer's CEO contract for another five years. His leadership in acquiring TRW paved the way forward for ZF in several areas.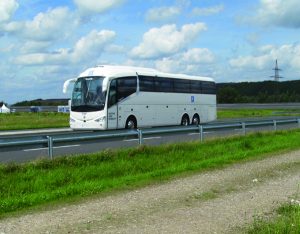 He mentioned that the integration of TRW into ZF was running ahead of schedule. Advantages of bringing TRW into the ZF family include: 1) Balanced Market Penetration; 2) Innovation and Cost Leadership; 3) A Diversified Product Portfolio; 4) Financial Independence; and 5) Becoming a Globally Attractive Employer. The combination of TRW and ZF is well equipped to make intelligent mechanical systems. ZF now says that these new systems can: See, Think and Act.
Dr. Sommer pointed out three major megatrends in the commercial vehicle industry that ZF is addressing: 1) Safety; 2) Efficiency and Electrification; 3) Autonomous Driving. Most of the new systems we saw fit into these three categories.
Several questions were put to Dr. Sommer. Here are some answers worth repeating. As far as launch customers are concerned, he said that an innovation truck with the full package would probably not be shown until the Hannover show. However, Dr. Sommer said that he expects that initial orders will most likely select the most useful packages for a particular operation. He noted that Europe and America had different needs in regard to the autonomous systems.
In response to a question about retrofitting the autonomous systems to used commercial vehicles, he felt that the cost would outweigh the benefits. In responding to questions about an autonomous car, Dr. Sommer said that they could be on the market as early as 2020 but that autonomous trucks might actually come earlier in certain applications or uses.
The press group moved to the ­Aldenhoven Testing Center near Aachen where they would have a chance to see and drive the new vehicles. Here, Peter Lake, a member of the Board of Management and executive vice president of sales and business, gave them some additional information on arrival. He said that TRW and ZF were complementary. A three- to five-year time line had been planned to integrate the companies but that was ­moving faster than expected.
Lake said that ZF now has a very extensive portfolio in the truck and commercial vehicle industry. In particular he mentioned modern steering systems that can be used with autonomous driving. He said that these past two years have seen a massive acceleration in technology. In addition, he noted that there has been more development in the areas of components becoming more digital, more electric and more apt to have two-way communication.
Ride and Drive
One of the highlights of ZF's Global Press Event is the opportunity to drive commercial vehicles with some of the latest ZF components and technology. This provides real "hands on" experience with these latest systems and how they do in real commercial vehicles.
Expectedly, I spent more time with the buses than the trucks. Easily the most impressive of the trucks was a Liebherr LTM 1300-6.2 mobile crane with six axles. It weighed in at an impressive 72 tons and was equipped with a 455 KW engine handling a maximum load of 300 tons. The transmission was the new TraXon Torque model designed for vehicles with a gross weight rating exceeding 200 tons.
On the track was a Russian Kamaz dump truck painted bright orange. It featured the new EcoTronic transmission, an economical automatic transmission designed for the mid-size truck market. A Dodge Ram 1500 truck demonstrated the new PowerLine transmission. Designed primarily for medium-duty trucks, heavy-duty pick-ups and buses, the automatic PowerLine has eight gears and a design similar to passenger car systems. Also on the track was a MAN TGX truck. It came with a TraXon transmission but also demonstrated the ZF intelligent dampening system for Continuous Damping Control.
A VDL Citea light low-entry transit bus demonstrated the new ZF EcoLife transmission with a start-stop function. As we drove around the test track, we could stop the bus like we were at a stoplight or stopped to board passengers. Within seconds the engine would shut off although the air conditioning and other systems continued to function. This reduced fuel consumption to zero while the engine was off.
Once the driver pushed down on the accelerator, the bus started up again and drove away. This was possible because the six-speed EcoLife transmission was built to provide a large volume of oil at start-up to avoid friction problems. I was also told that the bus had a special starter system to allow for a substantial number of engine starts each day. VDL is currently testing two of these buses to determine the actual savings in fuel and costs. Adding the fuel economy to the lightweight bus should give it interesting fuel economy compared with conventional buses.
I had an opportunity to drive an Irizar i6 coach. It had ZF axles and an EcoLife automatic transmission. Expectedly, the bus drove well because of its ZF axles and transmission. But the real challenge is that it had right hand drive.
While I have been to England, I never previously drove a vehicle with a right hand drive. I started out thinking I was comfortable only to quickly discover that I was further left in my lane than I should be. It took me a full turn around the test track before I figured out that I had to stay far right in the lane to keep the left side of the coach where it belonged. Fortunately, the regular coach driver, who had been assigned the coach earlier in the year, exercised some patience with me during my learning experience.
The longest bus on the track was a Bosankaya Sileo S-18 articulated all-electric bus. Two years ago this same company showed a single unit electric transit bus with the ZF AVE 130 electric drive axle. Although 59 feet long, the bus was very easy to drive. The quiet operation was noteworthy. The staff on board told me that this particular bus had two AVE 130-powered axles but that might not carry over into other production models.
According to my notes, the body is built at the TCV factory in Turkey. From here they go to the Bozankaya facility in Salzgitter-Watenstedt in Germany for completion and installation of the drive system. This bus was powered by batteries, but these same axles can be used with overhead electric wires, fuel cells and even diesel-electric power.
I was invited into the fourth bus by an old friend from VDL who was on board. This was a VDL Futura coach. It had originally been built with an AS Tronic transmission but a TraXon was substituted for testing purposes. The hybrid TraXon works well in autonomous driving situations because it can maneuver at low speeds using electric power but the diesel engine delivers the power at higher speeds. I found this coach delightful and one of the best-handling coaches I have had the pleasure to drive.
The Movement Towards
Autonomous Driving
Based on comments from Dr. Sommer, Peter Lake and others at ZF, it appears that autonomous driving in both autos and commercial vehicles is coming whether we want it or not. Here are three main points that should be kept in mind when thinking about autonomous driving.
The first is that when moving towards autonomous vehicles, it should be noted that new systems are built upon a foundation of previous systems. It probably would have been impossible to develop autonomous driving prior to digital technology and GPS. Earlier systems such as Anti-lock Braking Systems (ABS), Electronic Stability Control (ESC) and Adaptive Cruise Braking are all systems that autonomous driving builds on.
This development continues. For example, ZF has steering systems that can integrate with autonomous driving. Its new TraXon hybrid electric/diesel drive was also developed with autonomous driving in mind. It can operate a commercial vehicle at low speeds using electric drive, which is needed for autonomous maneuvering at low speeds. This is the reason why you see more commercial vehicle components going more electric and with more technology.
A second point is that, within reason, the new autonomous technology can be transferred between different vehicle platforms. The experts will admit that there is a great deal of difference in size and weight between an automobile transmission and a truck transmission. However, they suggest that in most cases the autonomous technology can usually be redesigned and transferred between cars, trucks and buses without having to start all over again.
ZF has been taking advantage of this to move ahead in several different areas. As we saw on the test track, they are very close to a fully autonomous truck. In fact there are suggestions that autonomous truck technology is ahead of autonomous auto technology in some areas. Buses already have many of the underlying systems as standard equipment these days. ZF has also been moving into the area of off-road equipment and had an autonomous tractor on display.
A third point, which was suggested by Dr. Sommer, is that the end commercial vehicle users may hold off on going with fully autonomous vehicles but opt for some of the systems that would help them best. For example, truckers in the United States and Canada may find Highway Driving Assist useful on the long interstate highway system. While at the same time the logistics people may be interested in ZF's SafeRange Maneuvering to reduce docking time and damage.
Innovation Truck Systems
Two years ago ZF had an Innovation Truck on display that could dock autonomously. This year saw somewhat of an explosion in technology with three different Innovation Trucks showing three different new systems making major steps towards autonomous driving.
That truck on display two years ago could dock quickly and accurately without a driver in the cab. The driver could exit from the cab and then tell the truck where to dock using an iPad or similar device. The new TraXon transmission simplified the maneuvering because it allowed the truck to operate electrically at low speeds. While the system worked extremely well, the logistics people were looking for something less expensive.
What ZF showed this year was an Innovation Truck that could dock by itself using a simpler system they call SafeRange. This involves a camera, computer technology and Wi-Fi at the dock, the truck with a TraXon drive and regular GPS. The dock camera looks for a target at the rear of the truck. In the event that the target cannot be seen because the truck is 90 degrees to the dock, the system starts the docking procedure by using GPS.
Once the camera at the dock sees the target, it sends information to the dock computer that in turn "talks" to the ZF Openmatics telematics system on the truck. Receiving the information from the computer, the truck then controls the ZF ReAX power steering and the TraXon Hybrid automatic transmission to steer the truck up to the loading dock. This should make docking faster, safer and less likely to cause accidents than with a driver.
The operator simply begins the operation by using a tablet or iPad and keeps the operation active until the truck is docked. There are several safety features. The iPad or tablet has a "dead man control" that immediately stops the truck if the operator removes his hand. The docking operation will also halt automatically if the truck detects an obstacle or pedestrian between the truck and the loading dock.
A second Innovation Truck was showing off ZF's Highway Driving Assist (HDA) technology that might be described as simplified autonomous driving for major highways and interstates. When activated by the driver, this system will use the TraXon transmission and ReAX steering to keep the truck in its lane on highways with gentle curves. It also has other features including an Advanced Emergency Braking System (AEBS) to watch for vehicles and obstacles on the road ahead.
Your editor was given an opportunity ride along while this truck drove around the test track. Once the driver set the automatic controls, he could take his hands off of the steering wheel and his feet off of the pedals. The truck did drive itself around the test track and stayed in its lane. Operation was at least as smooth as a human driver. It was necessary to go back to human control for sharp curves and maneuvering.
The real test came when a small car drove in front of the truck to test the automatic braking system. As expected, the system detected the car and started braking even if the truck driver took no action. While this is not full autonomous driving, it has been suggested that this system might be of benefit to those U.S. and Canadian truck drivers who spend a lot of time driving on interstate highways.
The third system was shown with both an auto and later with an Innovation truck. This is known as Evasive Maneuver Assist (EMA) and might be considered the next step beyond Adaptive Cruise Braking. Jointly developed by ZF and WABCO, this system uses a radar sensor to detect vehicles and obstacles in the roadway ahead. It gives the driver a warning but if the driver does not respond, it begins braking. If the on-board computer determines that the vehicle cannot stop in time, it then looks for an adjacent open lane and automatically steers the vehicle around the obstacle while continuing to brake to a halt.
This was initially demonstrated using a passenger automobile on the test track. The obstacle was an inflated imitation car. It was impressive to see the automobile starting to brake on its own and then pull into the adjacent line to avoid the obstacle.
Later, this same system was demonstrated with an Innovation Truck. But, to make things more difficult, the test track crew poured water on the pavement to simulate rain and slippery conditions. The Innovation Truck detected the obstacle and commenced braking using the WABCO system. Then, it automatically steered into an adjacent lane using the ZF steering system and went around the obstacle before coming to a halt.
In addition to the Innovation Trucks, ZF also had an Innovation Tractor on display. It offered both electric drive as well as Driver Assist Technology and was an obvious example of how some of this new technology could be used in off-highway vehicles. It is equipped with a ZF TERRA-generator module, an electric single-wheel drive. Six cameras mounted on the driver's cab and hood act as sensors.
A driver using an iPad or tablet can control the tractor. The tractor can automatically hitch and unhitch a trailer or implement and has additional cameras to help with hitching or to watch for pedestrians and obstacles. With a powered trailer, the tractor can brings loads up as much as a 30 percent grade.
Thoughts on the Future
ZF is already planning ahead towards 2025. Their goals are Safety, Efficiency and Autonomous Driving. I expect that we will see more technology and electrical components in the future to move us into autonomous driving. Based on what I saw and heard, ZF will probably have an autonomous truck to show off at IAA in September of 2016. Just when various manufacturers will offer them for sale has not yet been determined. But the autonomous trucks are coming, and we have to start thinking about how this will impact the bus industry.q