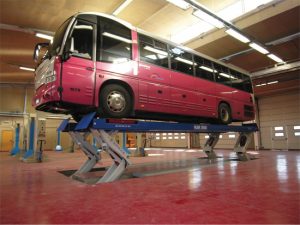 With one-man portability, a Sefac lift can be raised in any working bay and even outside. A Sefac lift takes up no more room than the vehicle being lifted and provides unobstructed access to vehicle underbody. If the lifts are not required for vehicle maintenance duties, they can be stored in a compact area. Each column is easily positioned at each corner of the vehicle meaning there is unobstructed access to the vehicle underside making it much easier to complete inspections, oil changes and major mechanical repairs.
Sefac mobile lifts have an enviable reputation for their robust reliability, at a competitive price and are backed up by the best product support in the business. While the industry standard is to use independent organizations for field service (often not factory trained), the SEFAC team comprises directly employed, factory-trained service technicians with more than 40 years experience in the mobile lift industry. A number of service packages are offered from fixed cost packages, annual OSHA inspections and breakdown visits. Free telephone technical support to all customers is provided. SEFAC guarantees parts availability for 25 years after a lift is retired from production.
In capacities up to 18,000 pounds (per column) we have just the lift for you. Most models come with an easy-to-use touch screen pad. The operator selects the operational mode (all lifts, pairs or single), the preferred lift speed (three settings) and in the unlikely event of an error, on screen instructions walk the operator step by step through the fault finding process.
Sefac has remained committed to the principles of a guaranteed self-locking threaded screw. Without the application of power it cannot move. Unlike a hydraulic lift, it does not rely on a locking mechanism to grab the load in the event of a failure. Additionally, a screw lift is proven to last longer than a hydraulic lift and is more environmentally friendly as it will not leak hydraulic oil.
Sefac lifts comply with OSHA, UL-201 standards and are built to the latest ANSI standards. They are also independently tested and certified by the Automotive Lift Institute (ALI) to ANSI, ALI/ETL ALCTV–2008 standard.
A recent addition to the product line is the Omer range of drive- on lifts. The "K Series" Pantograph lift raises the vehicle vertically, saving as much as five feet of floor space when compared to a parallelogram lift which rises at an arc. There are no mechanical cross-beams linking the runways making it easy for the operators to wheel tools, oil drainer or transmission jacks under the vehicle. It can be installed either surface mounted for your preference. These lifts are available in capacities of 55,000 pounds (KAR 250) and 77,000 pounds (KAR 350) and in runway lengths up to 36 feet.