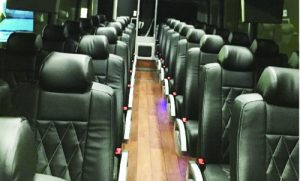 This year of 2016 is special for the Sardo family because they will be celebrating 100 years in the upholstery industry. Their success comes from the Sardo family of professionals who believes that service and quality come first. Each phase of production is supported by teamwork and a commitment to excellence. The Sardo team plans details with their customers to ensure their satisfaction is the end result.
Anyone who knows Lou Sardo is aware of his talents and hobbies. He enjoys the laughter and applause from people for his stand-up comedy act, performing slight-of-hand magic and card tricks. His best magic involves refurbishing bus interiors to make them look like new, and his best trick is keeping customers satisfied and coming back year after year.
All of this started in 1916 when Philip Sardo first got into the upholstery business. Lou Sardo represents the third generation of the Sardo family in the upholstery industry. He was born into the Sardo family in 1951 in Boston, Massachusetts. Only three years later his father Antonio moved both the business and the family to Los Angeles. Growing up in the upholstery business along with his 16 siblings, Lou carried on the tradition of fine craftsmanship and maintaining quality.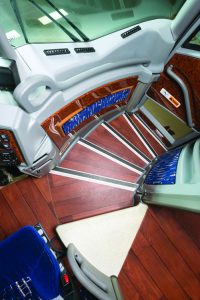 In 1972, Lou married Jeanie and they soon opened Sardo Bus & Coach Upholstery. Jeanie has been active in the company, has worked side-by-side with Lou, and today serves as vice president of the company. Since founding the company, Lou has added many innovative ideas for better products and service for the bus and coach industry. Today, Sardo Bus & Coach Upholstery is an industry leader in motorcoach and transit refurbishment.
Many people are not aware that Lou Sardo has had some interesting achievements in areas other than the bus industry. One of his favorite pastimes is a friendly but competitive game of billiards. He was unhappy with a loose rack of balls and set about inventing a racking device to solve this problem. Known as the "Sardo Tight Rack," it is used around the world and is currently sold in two models, the M-3000 and the M-5000. It is often seen on television including ESPN.
While the Sardo company has had some noteworthy success in the replacement and refurbishment of spectator seating, their biggest claim to fame is refurbishing, replacing and updating bus interiors. They have developed an enviable reputation for this in both the motorcoach and the transit industries. Several bus owners have commented that a bus with a new Sardo interior not only looks like new but also smells like new. It is a great way to extend the life of your fleet while also keeping your passengers pleased.
The key to this is Sardo's expertise in replacing and often modernizing passenger seat covers. Operators have a very wide choice in fabrics, designs and colors. Do you want to stay with the traditional, or do you want a more modern look, or do you simply want to add new and different colors? Seating foam can be changed at the same time as the covers to bring the seats back to their new appearance and feel.
Why stop with just the passenger seats? Let Sardo replace the seat covers on the driver's seat and replace the foam at the same time. Now all the seats in the bus look new again and the driver will be just as happy as the passengers. Next on the list is new flooring. Sardo offers several different flooring styles that offer wear resistance while improving the appearance of your bus. They offer the most environmentally-friendly materials to make sure that your bus is helping the environment.
Moving on, the Sardo experts can refinish your sidewalls so that they look more modern and match your new seat covers. Updated sidewalls not only help show off the new seat covers but, along with new flooring, help create the impression of a new bus interior. Finally, Sardo can make modifications to your luggage racks and even your lighting in the modernization process to the entire coach interior.
There are several other things that Sardo offers. Cleaning and detailing is available for coaches as are many interior modifications. Sardo can also remove restrooms. To them, each job is custom so you need not fear asking for anything special.
For those who are not in a position to bring their bus in to Sardo, the company has two other options that work well. On smaller jobs such as replacement seat covers, the Sardo team can make the seat covers and then send them to you for you to install. However, an increasingly popular option is a Sardo Mobile Road Crew who can come to your location at your convenience and do the work there.
The "do-it-yourself" option works well for smaller projects such as replacing a few damaged seat covers or even recovering seat belts on an entire bus. It has a major advantage in minimizing the downtime on your bus for this update. You simply contact the Sardo people to order the seat covers desired. If they have worked for you in the past, they probably already know the color and pattern you need. If you are recovering an entire bus, you have the option of picking a new design and color that can not only brighten your coach interior but also give it a new look.
The Sardo people then put the seat covers together to meet your needs. They ship them to you along with instructions and seat cover liners. Your own staff can install the seat covers when most convenient. The major advantage of doing things this way is that downtime is minimized for your bus and you can pick the best time for you. Companies that have done this regularly can completely recover an entire bus overnight, effectively totally eliminating downtime.
Sardo's Mobile Road Crew option has become increasingly popular. Sardo will send out one of their Mobile Road Crews who will show up at your site with a van with all of the equipment, material and seat covers needed. Major advantages include being able to schedule the work at your convenience and at your location. This option also reduces downtown on your buses and the crew can easily work on more than one bus while they are at your location.
Expectedly, the Sardo Road Crews are bonded and insured to work on your property. They are trained in what they do and average more than five years of experience. Each team is equipped with all the necessary tools, equipment and supplies to get your job done.
There have been numerous compliments on the work of the Sardo Road Crews and this option has been increasingly popular among bus operators. At last count, Sardo has had up to seven different Road Crew Teams on the road at the same time. Hence, the work is easy to schedule since the teams are all over the county at any given time. Again, you just need to phone Sardo and place your order. The seat covers you want plus any other work and the Sardo Road Crew will handle the material.
It is worth noting that the Sardo Road Crews can do more than just seat covers if you want. Other possibilities include flooring, modesties, sidewalls, headliners, under luggage racks, restroom doors and other options.
Lou Sardo has the best warranty in the industry. He stands behind his name and guarantees the quality of his workmanship for as long as you own your coach. The staff prides itself in delivering the best quality refurbishment while also offering a great selection of interior options at an affordable price.
The world of bus seat covers is continually changing and moving forward. Sardo is always looking for new ways to reinvent the seat cover. They have added new and modern patterns to their collection. They have added gusset patterns and are combining fabrics, vinyls and leathers to create different and exciting designs.
Easily the best way to keep up with what is going on is to visit the Sardo Web site for more information. Located there is a photo gallery of completed projects that can give you ideas. In addition, the products of fabric and flooring manufacturers are also shown on the Sardo Web site. This gives the suppliers a chance to show off their products while customers have an opportunity to see and pick from what is available. Sardo also has a periodic e-mail newsletter that includes special announcements on sale fabrics and information on forthcoming events where Sardo will be exhibiting.
The Sardo team can be reached on ­Facebook, Linked in or simply phone (800) 654-3824 and speak to Sandy, Kathy or one of the Sardo sales staff.
Photos courtesy of Sardo Bus & Coach Upholstrey