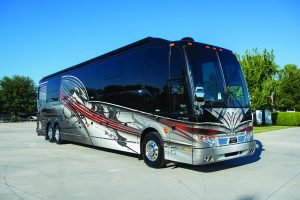 The July issue of National Bus Trader is traditionally dedicated to the conversion market. In looking for recent industry trends and developments to report on, it quickly became obvious that there were some exciting new directions with some of the latest conversions.
Steve Zeigler, the director of business development at Prevost, said, "We are seeing more diversity, technology and quality coming from our Prevost converters. Prevost coaches are being built for new customers and for different purposes, they boast of new state-of-the-art technology and the overall quality has reached new heights."
In addition to traditional conversion owners including motor homes, entertainers, executive coaches and various corporate purposes, we now see converted coaches going into more uses including team transportation, NASCAR and even scheduled service. Technology is on the rise with personal coach controls, new generator and battery systems and new electronics. In addition, the conversion companies have increased both quality and support. Following is a brief review of some of the Prevost conversion companies and their recent developments.
Marathon Coach
Marathon Coach of Coburg, Oregon is the largest and easily one of the largest coach conversion companies in the business. Having built more than 1,200 custom coaches for customers across the globe, Marathon Coach has heard all kinds of creative requests from customers and offered almost every imaginable option. From the revolutionary bunks-to-wardrobe feature and on-board golf cart storage to gold-plated sinks and jetted hot tubs, chances are that Marathon has turned customer dreams into reality.
When you order a custom designed coach from Marathon, you have the opportunity to choose everything from the floorplan to the fabrics. Their professional interior design staff and exterior paint department have the experience, knowledge and resources to implement the unique vision of their customers. With thousands of different colors, materials and styles to chose from, the creative possibilities are endless. Marathon has unparalleled skill and expertise in building the most complex and technologically advanced coaches on the road today.
Marathon Coach, Inc. began operations in September of 1983, converting new commercial bus shells into luxury vehicles and corporate coaches. Retired Abbott Laboratories chairman and CEO Robert A. Schoellhorn purchased his first Marathon Prevost in 1990. He was so impressed with the quality of his coach that Marathon Coach, Inc. has been owned by the Schoellhorn family since 1992 and is now the world's largest luxury bus conversion company. Over the past two decades, Marathon has grown its business by producing innovative, quality coaches as well as possessing an unwavering commitment to after-sale personalized service. The company has produced and sold more than 1,200 custom bus conversions worldwide. Marathon provides service support to their valued coach owners at their sales and service facilities in Oregon, Texas and Florida.
Marathon's engineers, craftspeople and designers are extraordinarily talented, with every department working together to design and produce each custom coach. Marathon is proud to have retained many long-term, dedicated employees having more than 1,600 years of combined experience with the average employee having more than 15 years experience. Sixty-four employees have been with the company 15 years or more while 106 employees have been with the company five years or more.
The Dallas Cowboys own a unique conversion designed by Marathon Coach. This white Prevost front-slide H3-45 features the Cowboy's navy star logo prominently on the side. The star logo is repeated inside the coach and is engraved in the floor of a private stateroom in the rear of the coach. Included in the stateroom are four leather recliners, two sofas and a bar. In addition to luxurious seating areas and a nicely appointed galley area, the custom X3-45 of the Cowboys features ­multiple high definition television screens, four satellite receivers and custom Crestron programming.
Marathon Coach customized a beautifully seated coach for the Portland Winterhawks, an American major junior ice hockey team based in Portland, Oregon. A YouTube video titled "Winterhawks Unveil New Bus" shows excited team members boarding the shiny black Prevost H3-45 coach adorned with the Winterhawks logo. Comments included: "It's a different world" and multiple players called it "unbelievable." Doug Piper, Winterhawks president, is shown telling the team that the bus contains only 31 seats with plenty of legroom. He advises the young men to try out the recline feature on the plush leather seats. The Winterhawks play in the Western Hockey League, one of three leagues making up the Canadian Hockey League.
Recently turned out by Marathon is a custom corporate coach conversion. Built in an X3-45 shell, it includes seating for 12 passengers. In the rear is a conference room with a removable table that can be closed off for privacy. Customer materials are used in converting the coach including a custom cork wrapped ceiling. Each of the seats is equipped with a stowing desk table, a cup holder and individual power connections.
Liberty Coach
Liberty Coach of North Chicago, Illinois is developing an enviable reputation for new technology. A year ago the Liberty Coach production team was hard at work putting the finishing touches on the company's much-heralded cockpit redesign, a project years in the making that combined breakthroughs in ergonomics, control systems, navigation software and many other areas. This year, Liberty is completing work on developing a new generator installation that meets the EPA's final Tier 4 emission standards.
"The Tier 4 standards have proven to be a particularly difficult hurdle for Prevost converters to clear," commented Frank Konigseder Jr., vice president and managing partner of Liberty Coach. "A lot of generator manufacturers are getting out of the RV business altogether rather than making the investment necessary to develop one that satisfies Tier 4," he said. "So when it became apparent that we were going to have to change, we made the decision to switch to the Onan generator, which is Tier 4-certified, and increase the size of our battery pack." Konigseder noted that only Liberty has made serious headway towards compliance.
In addition to the Onan generator, the new system includes a revolutionary new 58-volt Lithium Ion battery pack from Volta Power Systems, which delivers more than three times the energy of any other RV battery system, and a new Tier 4-certified Onan generator that releases a fraction of the particulate matter produced by present day installations. 
Volta Power Systems took a Prevost, retrofitted it with their battery pack and tested it. There was noticeable fuel savings because the generator is smaller and the battery pack could carry the coach for up to 24 hours. The overall weight came in similar to past installations because the smaller generator balanced the weight of a bigger battery pack. In addition, using a 58-volt system reduced the amount of copper wire used. A big advantage is the new system actually increases the total amount of storage space available.
This new system made its debut in February of 2016 with the beginning of Liberty's 2017 model year and Elegant Lady No. 806, the Veneto Edition. Not surprisingly, the coach sold within a few days of listing, leaving others waiting in line for the next Elegant Lady. The company has been involved in the luxury coach industry for more than 40 years and has an additional location in Stuart, Florida.
One of the more interesting new conversions to come from Liberty is a fully-equipped Elegant Lady motor home for the Mars family for use at family and NASCAR events. The Mars family owns the confectionery company Mars, Inc. that bears the family name. Mars is the official chocolate of NASCAR and a team sponsor for Joe Gibbs Racing. Driver Kyle Busch operates the #18 M&M's Toyota Camry for Joe Gibbs Racing.
The coach sold to the Mars family is a 2016 quad slide, bath and a half unit built in a Prevost H3-45 powered by a Volvo D13 engine. The striking exterior paint scheme was custom created by Dean Loucks and The Art of Design. The list of amenities, many of which are common on Liberty conversions, is extensive and includes a lower bay entertainment center, wood flooring in the galley and hallway, high-end appliances from Bosch and Jenn-Air as well as his and hers vanities with solid surfacing countertops and a co-pilot chair with heat and massage.
In addition, the coach boasts Liberty's ergodynamic cockpit design, an amazing amount of storage and a Creston remote control system on touch screens throughout the unit. Entertainment options are numerous due to the on board Wi-Fi and full HDMI Audio/Video utilizing HDBase-T two-way communication.
Farber Specialty Vehicles / Custom Coach
"Running a specialty vehicle manufacturing business spanning several product lines can make one's day go by very quickly," says Steve Goodyear, vice president of sales at Farber Specialty Vehicles – Custom Coach. "We have been very fortunate for the past decade to have a backlog of business that has enabled us to continue to invest in both people and technology while growing our business model and staying competitive on both a national and international level. What is the secret? Actually, we feel that the secret to our success is that our success is a secret."
At Farber we feel it is important to be confident in our products but modest in our approach.
Farber has an impressive claim to heritage and experience. The Farber company has been around for four generations and more than 80 years. Their success is based on leadership in the area of specialized vehicles for mobile purposes including command posts, communication centers, medical coaches, mobile offices and a wide range of other custom applications. Custom Coach was founded in 1955 by Miles and Kirwan Elmers. It is the pioneer in motor home conversions and developed an enviable reputation in executive, entertainer and specialty coaches. Custom Coach was acquired by Farber Specialty in 2002. The company is based in a modern facility adjacent to Interstate 70 on the east side of Columbus, Ohio.
Farber has continued to deliver a steady stream of units to customers that continues to push the envelope in both quality and technology advancement. You cannot cut corners in this business. When you start looking at the life cycle of the investment of labor and materials, the Prevost solution rises to the top more often than not. Their one touch operating system, the latest in hybrid accessories, lightweight materials, insulation and of course 3D modeling give all of their commercial customers an environment that continues to exceed expectations.
Farber's Custom Coach division has been very busy on their latest executive coach design which will be hitting the streets in early 2017. These new coaches, like their predecessors, will feature all of the latest design and technology available. They continually get asked if they are aware of any used Custom Coach executive models in their inventory and they often reply in a humorous manner that they are usually only available in an estate sale.
Featherlite Coaches
Amadas Coach has been crafting the finest quality coach conversions since 1981 delivering seated, executive style and corporate marketing coaches tailored for each client and engineered to deliver on the performance goals for each use. Alongside its consumer-focused brand, Featherlite Coaches, Amadas Coach leverages the experience gained from more than 800 coach builds and 50 years of manufacturing excellence to deliver the highest quality coaches for clients including tour and charter operators, corporations and international individual owners.
Amadas Coach is unique in offering the stability of a large international manufacturing company with the nimbleness of a small organization. Amadas Industries, the parent company, allows Amadas to leverage a global organization sourcing the highest quality components with favorable cost to return equations necessary in today's challenging transportation industry. Yet, as a small, dynamic, family-owned manufacturer, Amadas takes a personal approach and partners with its clients to ensure that they are aligned with their business goals in order to create a coach that can deliver returns.
Amadas Coach conversions are the highest quality coaches available in the marketplace, leveraging the most advanced components such as Prevost X3 and H3 shells. Amadas Coach crafts coaches that range from traditional seated models to luxurious versions rivaling the opulence found in the world of private coach and air travel. Prized for their reliability, Amadas Coaches are found trackside at NASCAR events for business activities, on the highways for transportation companies like Vonlane and Bieber Tourways, being leveraged for corporate events by the likes of Google and for transporting royal heads of state for foreign countries. Amadas sees a high volume of repeat business, a testament to the quality of coaches they deliver and the trust they have earned with their clients.
Amadas Coach relationships are characterized by integrity consistent with the highest ethical standards. The mission for Amadas Coach is to provide the highest quality coach with the most innovative technology available, exceeding clients' expectations and allowing partners to succeed in their unique goals. The innovative corporate structure, blending a large manufacturer with a small, focused expert in the consumer and business coach market, results in the transportation industry's highest quality coaches.
Millennium Luxury Coach
After more than 20 years of history in the marine, aviation and luxury coach building industries, Nelson Figueroa founded Millennium Luxury Coaches in 2001 with a passion for all things Prevost. Even today, as Millennium now employs more than 50 men and women at its 100,000-square-foot sales and production facility in Sanford, Florida, Nelson prefers the grease and sweat of working elbow-deep in the underside of a coach to any kind of posh owner's office.
The journey of a Millennium Luxury Coach begins in Sanford, Florida at Millennium's 100,000-square-foot facility where the most advanced technology is combined with old world craftsmanship. Millennium invests where it really matters – in the product. They start with the highest quality of components, both on the outside and behind the scenes where it is most important. That concept carries over to the interior where company designers are always searching for the latest in design products, luxurious textiles and handmade accessories. This gives each coach a personalized look and feel while maintaining the highest standards of quality and craftsmanship. In addition, each cabinet is hand built with the talent of an artist and the hands of a craftsman.
Lavishly appointed with rare imported italian stone, each coach features top-grain leather captains chairs and rich, exotic burl wood all hand-selected to exceed the expectations of even the most discerning clients. The warm glow from the ornate wall sconces accentuates the rich luster of handcrafted mahogany cabinets, all wearing their own custom-designed piece of jeweled hardware inlaid with Swarowski crystals. With handlaid, cascading tile mosaic showers and granite floors with radiant heating to avoid frosty first morning steps, there are no compromises. Nothing has been spared.
The list of amenities is staggering, and the available combinations of appointments and optional features are nearly infinite. The ability to run the coach nearly to its electrical limits, miles from the nearest electrical hookup, using only the clean, silent power of its eight marine-grade batteries and four 3,500-watt inverters is a small detail, perhaps. In a class of high-luxury products where beauty and quality are guaranteed, it is the subtle but significant differences in livability that quickly separate one coach converter from another.
Figueroa believes that making a coach livable requires a radical technique: spending time living in the coaches they build. Whenever a few feature is being designed or built, they take a coach out during the conversion process and live in it for a few days. After that time, they have made discoveries such as whether an electrical outlet should be in a different place or whether the closet needs to be wider. They also look for possible ways to redesign the control system so an owner can accomplish a common task in one step instead of three. These are things that would likely never be revealed by looking at diagrams or in the shop.
Another Millennium philosophy is that your "home away from home" should have all the comforts you expect to find at home. Each Millennium Luxury Coach is equipped with a Lutron home-automation operating system that provides fluid, reliable control with seamless connectivity. This sophisticated, high-level integration allows for complete user control. Change the channel, adjust the air conditioning or lower the shades all at the touch of a button from the comfort of your armchair. Transform your space and your mood with custom lighting programs, all easily tailored to your preferences.
"We have taken the Lutron system one step further by combining it with a persistent, over-the-air high speed Internet connection built into every coach," says Nelson. "While parked at a campsite, or even driving down the road, a Millennium coach's system can be monitored, controlled and even repaired from any Web-generated device, including the computers in the Millennium service department in Sanford.
Millennium's iPhone app also allows complete control of your coach, even when you have had to leave it behind. Using an iPhone, iPod Touch or laptop computer, you can control the Lutron system remotely. If you forget to turn on your generator's auto start feature, for example, just remotely log in and adjust settings. Better still, call on one of the helpful Millennium technicians and they can make the adjustment for you.
Millennium management attributes the success of their company to their team of dedicated professionals who share a passion for doing something they love. They are inspired to run faster and jump higher. Millennium does not have an engineering department, it has a company of engineers, all empowered to design, create and continually improve Millennium coaches. Millennium's goal is to change the world – one luxury coach at a time.
Emerald Luxury Coaches
Emerald Luxury Coaches of Stephensville, Texas represents a bold new concept in world-class coaches. They are dedicated to delivering the elite quality and luxury of Prevost custom coach conversions for a considerably lower price than you would expect to pay.
The company was founded by CEO John Walker who began producing high-quality trailer conversions in Stephensville, Texas two decades ago. The Emerald Luxury Coach operation began in 2014. John Walker is first and foremost a craftsman who insists on high-quality work and meticulous attention to detail. His continuous pursuit of perfection inspires everyone on the Emerald team.
Emerald starts with the best bus shell in the industry and maintains that level of quality throughout the conversion process. They use only the finest and most durable equipment, hardware and materials. The Emerald staff select and mill the hardwood lumber for their cabinets, then trim and custom-fit these components in each individual installation to achieve exceptional material quality, fit and finish.
Emerald production is geared toward quality as well as a finished product that is easy to service and is customer-friendly in its operation. This means using technologies that are practical, easy to learn and simple to use. Each step in the production process involves scrupulous quality control and the job will not proceed to the next step until the quality is right.
Emerald has a simple formula: quality designs, quality materials, quality craftsmanship. It begins with the legendary Prevost X3-45 shell and ends up in a state-of-the-art, 100,000-square-foot facility designed and built exclusively for Emerald production. The result is, quite simply, a great value in luxury coach conversions today.
Emerald Luxury Coaches now has an area solely dedicated to them at the Texas Motor Speedway. The "Emerald Luxury Coaches VIP Campground" has spots for motor home owners that offer many amenities and VIP access to the track. Located on the south end of the track, the VIP campground offers oversized paved spot, water and electricity hook-ups, 24-hour security, easy access to restrooms and shower facilities and a prime location near the main grandstand. The new campground debuted to much success during the Duck Commander 500 race weekend in early April.