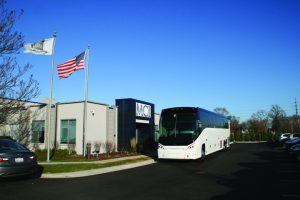 MCI just recently completed a move to a new location and impressive facility on Oakton Street in Des Plaines, Illinois. This attractive and modern building with state-of-the-art equipment houses both the Chicago area service center as well as offices and brings customers, service, parts and office staff back under the same roof once again.
It was in the mid-1960s that MCI coaches first began showing up in the United States in significant numbers. Greyhound began taking delivery of MC-5 coaches and this prompted an interest in MCI coaches by other operators. As a result, Hausman Bus Sales, a division of American Transit Corp., a subsidiary of Chromalloy American Corporation, was appointed the sales representative of MCI coaches on May 1, 1972.
Hausman was located on Archer Avenue on Chicago's near southwest side, but increasing MCI sales created a need for a larger and more modern facility. The location selected was on the northeast corner of Golf Road and Mt. Prospect Road in Des Plaines, Illinois, directly north of O'Hare International Airport. Officially 10 E. Golf Road, Hausman opened this new facility in 1983 [see the October, 1983 National Bus Trader].
MCI, then owned by Greyhound, acquired Hausman in 1989. The Hausman parts operation was merged with what was then called Universal Coach Parts and this 10 E. Golf Road facility began being used for MCI's corporate and other offices as well as for a service center.
This worked for a while but an expansion in MCI office staff, particularly in customer service work, caused a need for more office space. Hence, two floors were rented in a modern high rise office building at 1700 E. Golf Road in Schaumburg. Although still on Golf Road, this location was about six miles west and effectively across the street from Woodfield Mall. While the building was very nice, it did remove much of the office staff from proximity to the buses and service customers that remained at Golf and Mt. Prospect.
Consolidation and expansion of the parts operation in Louisville, which opened in 2000, was eventually intended to provide space for most of the customer service operations. The Technical Call Center and Emergency Road Side Assistance (ESRA) moved to Louisville. More recently, accounting and customer service moved out of the Chicago area to Louisville [see the November, 2011 National Bus Trader]. This left a lot of open space in the Schaumburg office and prompted an effort to bring the service and office people back together again.
The solution was to move both the service operations and the office staff to a new location at 200 E. Oakton Street in Des Plaines. This is approximately two miles south of the former service facility at 10 E. Golf Road and very close to O'Hare International Airport. For those of us who have flown planes out of O'Hare, this location would be situated between the extended runway 36 and extended runway 32 Right.
MCI's new facility is in an industrial area just east of Mt. Prospect Road on the north side of Oakton. For those who may remember, it is almost across the street from the old location of Universal Coach Parts at 105 E. Oakton. On the east side of the building is the old Chicago & Northwestern freight tracks that connect Proviso yards with both the Northwest and North lines of the railroad.
There are approximately 80,000 square feet under roof. About 20,000 square feet at the front west and front center of the building is dedicated to office space. The remaining area of about 60,000 square feet is used for service operations and is basically in an "L" shape at the front east and rear of the building. Behind the building is a large outdoor area for bus parking.
If you are going to get parts, you will find the parts entrance on the east side of the building adjacent to the railroad tracks. There are a few spots alongside the building to park your car, van or pickup truck.
If you are bringing your coach for service, the service entrance door is located off Oakton Street near the east end of the building. There are also two wash racks located in this area.
Service operations moved out of 10 E. Golf Road right after October 1 and were fully operational at the new location shortly thereafter. The new service facility is not only air-conditioned but has been upgraded to being state-of-the-art. The technicians have portable tablets loaded with schematics, parts catalogs and diagnostics.
There are two full-service pits for oil changes and related services, a state-of-the-art paint booth, plus a well-appointed driver's area with comfortable lounge chairs, television, Wi-Fi and refreshments. Two indoor bus wash stations are located near the service entrance door off of Oakton Street.
Among the impressive features of the new service area are its size and traffic flow. There is room for 36 coaches, so all of the work can be done indoors in a climate-controlled area without having to worry about weather outside. The service area is also set up to permit the buses to enter off Oakton Street, then turn left (west) into the main service area and exit on the west side of the building.
Lighting in the service area is impressive. I was able to take photos without a flash. The technicians are delighted with the new tools, state-of-the-art diagnostics and the expanded capacity. Under ReliaDrive the MCI Service Center promises same day diagnosis, an accurate estimate (within 10 percent of the actual bill) and a fixed right the first time guarantee for MCI and Setra coaches.
MCI's telephone number for service is unchanged at (800) 428-7626. Service department hours are 6 a.m. to 10 p.m.
Monday, October 21 was designated as the official moving day for the corporate office staff. Things coming over to the new location were packed in orange shipping crates and transported to the new location. The 20,000 square feet of office space includes offices for management and sales staff as well as partitioned cubicles for the support staff. There is a very nice conference room as well as a modern kitchen area for the staff.
One of the nice features of this new location is the indoor coach display area. Located
immediately behind the office area and adjacent to service, there is room for two coaches inside. This allows the MCI staff to showcase both new and pre-owned coaches inside as well as do training sessions or showcase coach features.
With both service and office personnel, MCI has a staff of about 70 at this Oakton Street location. Several staff members mentioned that one of the biggest advantages of this move is that it brings together MCI's executive offices, sales and marketing, sales administration, human resources, customer support, legal, business excellence as well as some information and financial management functions along with pre-owned coach sales and service operations. This provides some tremendous advantages for the MCI staff to network with other staff members as well as to talk with customers who come for parts and service.