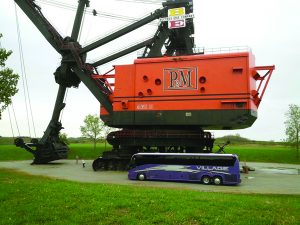 Back when MCI got its start eight decades ago in Winnipeg, Manitoba, much of North America was wilderness. Inventor and MCI founder Harry Zoltok understood that a motorized multiple passenger vehicle had to withstand harsh road conditions, along with minus 40 below zero temperatures common during a Winnipeg winter.
Today is no different. In fact, the need for hardy coaches continues to increase especially for operators that run tours around Alaska, or hold contracts with mining industries to transport workers to highly remote regions throughout North America. A motorcoach must be up to the challenge, and those made by MCI have proven their worthiness.
Premier Alaska Tours, an Alaska-based land tour motorcoach charter company, and others operate MCI J4500 coaches on their dynamic tour around Alaska, a state which includes what some consider the loneliest road in America, the unpaved, 400-mile Dalton Highway.
Operators serving mining industries in Nevada, Colorado and other states have also selected the MCI J4500 and D-Series coaches for commuter services, transporting miners to incredibly remote sites through all four seasons, road types and weather conditions.
"In these environments, product performance matters," said Brent Danielson, MCI's director of product planning, sales engineering. "Many aren't aware of the extreme abuse these coaches take in daily service. We see it; and this experience and feedback from operators has led to many improvements and the protection now available with the severe duty package."
MCI's case study examples include Golden Arrow's service for Kearl, a world-class oil sands mining project with 4.6 billion barrels of bitumen resource and a project lifespan of more than 40 years. The Kearl Oil Sands Project is an oil sands mine in the Athabasca Oil Sands region at the Kearl Lake area, north of Fort McMurray in Alberta, Canada.
The MCI Commuter Coach constantly proves itself in tough urban environments. "In New York City our out-of-service rate is six times better than our closest competitor and comparable age vehicles," said Danielson. "We always take our customers' operations into consideration when we update our models."
Which leads to the latest round of enhancements.
The new Severe Duty Package from MCI for their J4500 model is turning several heads. Some of us have already noted that it makes a versatile model even more versatile. It is also generating interest because the Severe Duty Package represents a particular and coordinated package of options for a specialized application. That kind of thing has rarely been seen in the bus industry in the past and shows a strong move by MCI to accommodate some of its customers running a specialized service.
For those who do not know or do not remember, the MCI J4500 coach traces its lineage back to 1997 when MCI introduced its new Renaissance® model. Introduced as a higher-class model for upscale charters and tours, the Renaissance offered modern styling, improved systems and several higher quality features. It quickly became the preferred favorite for high-quality charters and tours by MCI operators.
The Renaissance soon became known as the E4500 model. It was probably expected that other operators would pressure MCI for more of a "bread-and-butter" version of the attractive E4500 as sales increased. Introduced at the UMA show in February of 2001 in Atlantic City, the new MCI J4500 offered much the same styling and curb appeal as the E4500. But, as requested, it was more of a traditional coach for everyday service.
Peter Pan Bus Lines showed their confidence in both MCI and the new J4500 model by being the first in line to place an order. Soon, the new J4500 coaches were running between Boston and Springfield and on other Peter Pan routes. When Peter Pan and other operators ordered more J4500 coaches, it soon became obvious that the J4500 model offered both the traditional MCI durability as well as the new, attractive design. In 2002 the J4500 surpassed the sales of its parent E4500. In 2004 the J4500 surpassed the sales of the MCI D4500, becoming the most popular intercity coach on the market.
The J4500 has retained the title of most popular coach on the market ever since. But a strange thing happened. MCI engineers began improving the J4500 from time to time to where it soon became the coach of choice for all types of service – from heavy-duty scheduled runs to high-quality charters and tours. Operators who had previously operated the E4500 coach moved to ordering the popular and improved J4500 model. In an industry that has been moving to different coaches for different types of service since the mid-1980s, the J4500 has become somewhat unique in being very versatile and suited to most every type of service. This new Severe Duty Package extends that versatility even more.
When many of us think about bus operations, it is the most obvious types of service that come to mind. This can include a charter on Interstate 80 through Iowa cornfields or a tour stopping near Times Square for a Broadway show. But there are numerous other uses for buses. These include several types of industrial locations including mines.
The typical large mining operation tends to be somewhat remote. You will not find them in the heart of a big city or even in sprawling suburbia. Larger mining operations are more likely to be found in remote locations where there is no public transportation. Hence, dedicated coaches are often used for staff transportation to and from work at these locations. A ­similar situation also exists for transporting employees to work at oil and gas operations.
This kind of service can be among the most difficult for coaches. The entire area can be full of dust from the mining operations. Roadways may be less than ideal and dusty in dry weather while muddy in wet weather. Operators facing these difficult conditions approached MCI with a request for special modifications for coaches used in this type of service. The MCI engineers determined the specific problem areas and then developed the new Severe Duty Package for the J4500 to combat them. Here is a list of the items included in this new package.
Supplemental Engine Air Filter
Dust and particles in the air are a major problem for bus operations serving mining and similar industrial facilities. The dust tends to get into everything and is a particular problem when it gets inside of engines. Part of the Severe Duty Package is a supplemental engine air filter that is installed inside the primary air filter. It captures smaller particles and also keeps dust from entering the air intake system when replacing the primary filter.
Cabin Fresh-Air Filtration System
The ever-present dust annoys the passengers as well as the engine. An additional filter has been provided in the compartment beneath the driver to filter all incoming fresh air. This keeps dust out of the cabin air distribution system and provides cleaner air for the passengers.
Additional Full-Width Mud Flaps for the Drive Axle
Mud and dirt are a particular problem for components located beneath the coach. MCI has provided full-width mud flaps for the drive axle. These help protect the tag axle steering cylinder, U-joint and the transmission housing by reducing the mud, dirt and rocks kicked up by the drive tires.
Additional Full-Width Mud Flaps for the Front Axle
Full-width mud flaps have also been placed behind the front axle. This fills in the gap between existing mud flaps. It helps knock down mud, dirt and rocks kicked up by the front tires that could cause problems to underfloor components and systems.
Engine Compartment Under Pans with Transmission Shroud
These mining and similar industrial services have had problems with mud, dirt and stones getting into the engine compartment. In addition to the possibility of causing damage, they also make the area dirty. MCI's answer to this has been to provide a pan under the engine and a transmission shroud. This goes a long way towards closing off the area and eliminating a lot of that mud, dirt and rocks being thrown into the engine compartment.
Transmission Speed Sensor Protection
The transmission speed sensor was an obvious problem area for buses running in mining and industrial areas. Again, this situation was the result of dust and other things in the air. MCI has resolved this problem by providing additional covers for the transmission speed sensor. There are actually two separate covers for two different purposes. They protect the harnesses from impact damage due to rocks, and other road debris while also keeping the harnesses secure under the accumulated weight of snow, ice, mud and road debris.
Transmission/Differential Breather Tube Protection
This was another area on a coach that was vulnerable to dust and debris when operating in these mining and industrial areas. In particular, the breather tubes could become plugged if filled with dust and debris. To provide protection and reduce the potential for contact with dust and debris, the tube was moved to the top of the axle area. This increases the reliability of the breather tubes but also guards against damage from ice and snow. The tubes are now less likely to be affected by dust, debris, snow and ice because they have been relocated to "cleaner" areas in the axle area.
Pressurized Baggage Compartments
Another problem area for buses used in these applications is the underfloor baggage compartment. The pervasive dust gets into everything. It not only leaves a layer of fine dust on surfaces in the baggage compartments but also gets into any equipment in that area. What MCI did to eliminate this problem was to provide positive air pressure inside the compartments to prevent the dust from entering and help remove any dust already inside.
Brake Dust Shields on All Axles
Brakes were also a typical problem area on coaches used in mining and industrial operations. In addition to the ever present dust, brake components suffered damage from rocks and large debris thrown up from the roadway. MCI provided dust shields on the brakes on all axles to prevent damage from dust and large debris.
3M Paint Film Protection
Systems and components seem to be the major concern for coaches in this type of service. However, the exterior of the coach is also a problem area. With rocks and debris continually being kicked up, the paint and finish is very susceptible to damage. MCI's answer to this problem is to provide a protective film covering the 3M exterior paint. This tends to minimize the damage from the smaller stones.
All of these items are included in MCI's Severe Duty Package for the J4500. ­Technically, it is known as option 6.05.116 and can be easily added to your J4500 order to make sure your new coach is equipped to deal with rugged operating environments.
This package was developed with years of feedback from key customers and MCI is constantly looking to add more value enhancements. MCI's Brent Danielson commented: "We know we compete with a lot of really good products, but ours has been proven. Our customers say that MCI continues to provide the most advantages for the lowest operating cost."