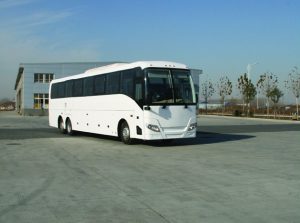 Bus and Coach America has appeared at some trade shows and is announcing the debut of their first production coach to the North American market. As a result, we have received several inquiries from readers asking for information on Bus and Coach America. Who are they and what are they doing? Since the people from BCA were kind enough to provide information and even invite us to see some of what they are doing, we can share their story with you.
BCA was founded in 2010 to develop, build and sell buses particularly geared for the North American market. Many of the people involved have a strong background in the bus industry. In general, their avowed goal is not to build an elaborate bus nor a cheap bus but rather a bus that provides good value for North American bus operators.
Work was soon underway in developing and engineering products that meet these criteria. Plans called for developing a 45-foot coach called the BCA45 followed by a companion 40-foot coach known as the BCA40 followed by a transit bus.
A total of three years of work went into developing the BCA45 for the North American market. In addition to the U.S. design and engineering, the BCA staff became involved with research and development and they also worked with vendors and partners before following up with road testing.
BCA is a bus manufacturer with its own VIN numbers. Plans are to manufacture or assemble buses in the United States to comply with Buy America provisions as required by customers. However, since BCA did not yet have their own manufacturing plant, they began looking for a joint venture partner to build their BCA45 coach to their specifications.
Joint Venture
The requirements were somewhat substantial since BCA was looking for a joint venture partner who would build the BCA45 to their engineering plans while allowing BCA staff to monitor the production process and assure quality control. For several reasons, BCA selected the Zhengzhou Yutong Bus Co., Ltd. of Zhengzhou, China.
Yutong is highly automated and the largest bus builder in the world. They became interested in this partnership since it has a presence pretty much all over the world other than in North America. This partnership introduces advanced North American market expectations and technologies to Yutong, such as stainless steel construction and EPA 2013 emission controls. It also means that the BCA staff is split between North America and China with some people crossing back and forth on a regular basis.
Key BCA staff members include Lawrence (Larry) Brennan, as president and CEO. Brennan is a former military officer with past experience with motor vehicle dealership operations as well as operations, sales, marketing, financing and logistics. In addition, he helped achieve the first U.S. regulatory (FMVSS) compliance for a Chinese-built commercial vehicle.
Canadian-born Andrew (Andy) Fung is a licensed professional engineer responsible for operations, manufacturing, engineering, research and development and production. His background includes engineering for Hughes Aircraft and Unisys plus many years with MCI in the areas of design and development as well as after sales support and parts. He also has previous experience working with Chinese-built buses although in spite of this and his own personal heritage, he is still learning to speak Mandarin.
Chen Sheng is an electrical engineer by training and manages BCA's China operations. He has worked with Toyota and King Long Bus where he received an "Outstanding Electrical Engineer" award. His experiences include heavy-duty multiplex systems as well as clean energy power trains.
Another Canadian is Jean-François (J.F.) Gagne who grew up in the motorcoach business in the Montreal area as the third generation involved in the industry. He holds a degree in Mechanical Engineering with a minor in manufacturing and structural design. Prior to coming to BCA, Gagne worked for motorcoach companies and managed projects for Cirque du Soleil. He supervises design, manufacturing and quality control of BCA production.
Other key members of the BCA staff include Harry Black, CPA, who serves BCA as CFO and who has more than 20 years of public accounting experience. Robert W. Miller, BCA's executive chairman and director, is a former commercial banking executive who also served as chairman of TriRod Motorcycles. Another director is Maggie Lau, Ph.D., who has substantial experience in management, business development, marketing, production and operations. She currently serves as vice chairman of the China Cities Sustainable Economy Development Committee. Also serving as director is Richard Shepherd, an accomplished executive and managing member of On-site Energy Solutions and managing member for Lombardy Cambridge Partners. BCA has a full-time presence in China and the U.S.
Yutong
Zhengzhou is located approximately 450 miles south of Beijing, China. What became Yutong was originally founded in 1963 as the Zhengzhou Bus Repairing Factory. In 1985, the name was changed to the Zhengzhou Bus Factory to reflect the expansion into building buses. In 1993, the Zhengzhou Yutong Bus Co. was founded and in 1997, Yutong became the first bus industry company listed on the Shanghai Stock Exchange. In 1998, Yutong became the largest bus builder in Asia.
The Zhengzhou Yutong Bus Co. is a part of the Yutong Group that is involved in buses, construction machinery, automotive parts and components as well as real estate. Today, Yutong is the largest bus builder in the world with 51,688 buses and coaches delivered in 2012. While many of these units are body-on-chassis and smaller buses, the numbers are still mind-boggling. The company has approximately 50 major product lines and something like 500 individual models. Currently, Yutong has a market share of 26.7 percent of the Chinese bus market and about 12 to 13 percent of the world bus market.
Yutong is currently in the process of building a second huge bus plant they call their New Energy Plant. It is already in operation and will eventually produce 30,000 units annually. Both bus plants are located outside of the city in a fairly open area. Both are cities in themselves with their own fire departments, cafeterias for the staff and housing for some staff. Most of the staff wears uniforms, workers in blue and quality inspectors in red.
Technology and automation is very high at Yutong. The company builds its own chassis for many of its body-on-chassis buses. The chassis assembly line is not only high quality but is also state-of-the-art. The Yutong body-on-chassis buses we saw were relatively high quality. State-of-the-art robot arms are used for painting and some of the welding is automated. It is interesting that Yutong uses PPG paint. Yutong extends the life of its buses made from carbon or mild steel by dipping them intact in a series of treatment and electrocoating tanks using a procedure that is automated.
The diverse Yutong product line includes both transit buses and coaches but also has some interesting models. To improve safety for children, Yutong is working with the government to produce school buses that are much like American school buses and are even painted bright yellow. Another interesting product line involves several types of recreational vehicles, some using chassis from other manufacturers.
Yutong has been exporting buses on the world market for years and has a presence on five continents. They have been an exhibitor at Busworld shows and have won several European Coach Week awards. Included are the Grand Innovation Award, the Grand Safety Award, the Grand Environment Award and Grand Award Coach. Yutong was also named Coach Builder of the Year for 2012.
The BCA45
The BCA45 was designed and engineered by BCA for the American market; it is not an existing Yutong, but a clean-sheet BCA design. Because of the quality required, it will be built on Yutong's Special Vehicle assembly line under the supervision of BCA staff embedded at the factory. Construction and components are essentially state-of-the-art in many areas.
The integral web frame structure uses stainless steel for durability and longevity. Overall dimensions are standard for the American market with a length of 45 feet, 102 inches wide and an external height of 11 feet and eight inches so it will fit through a 12-foot door. Underfloor luggage capacity is 420 cubic feet.
BCA supplies a popular American power train that includes a Cummins ISX12 EPA 2013-compliant engine and an Allison B500R transmission. A Parker hydraulic fan drive is used for cooling. Cruise control is standard and a Parker Multiplex System ties the systems together. Dual 100-amp alternators are standard as are the usual dual 8D batteries.
All three axles come from ZF. It is noteworthy that the state-of-the-art ZF independent front suspension system is provided. In addition, the BCA45 has state-of-the-art electronic suspension control with kneeling, high ride and low ride settings.
Knorr-Bremse disc brakes are provided along with a brake wear indicator. Bendix ABS/ATC is provided as standard equipment. Basic tires are Double Coin 315/80 R22.5 on steel wheels, with upgrades available. The spare tire is located in the usual position behind the front bumper. Although most of us no longer change our own tires, it is nice to know that rollers are provided to make it easier to remove or replace the spare tire.
The coach interior has LED lighting. Passengers get three-point seat belts and individual reading lights. A Monogram toilet is provided in the large restroom. Entertainment equipment includes five fixed monitors below the parcel racks. A DVD player is located in the parcel racks and a passenger source selector is included. Climate control includes an Eberspächer rooftop unit, a Bitzer compressor, floor level convective heaters and an Eberspächer (Espar) auxiliary heater.
While I was not able to take the BCA45 out on the road, I was permitted to drive inside the Yutong property. The main dash is very clean, easy to understand and uses rocker switches. Both a driver's microphone as well as a tour guide microphone are provided. An AM/FM/CD/MP3 player is included on the dash. The left side panel has transmission controls, mirror controls, the parking brake and a few other switches.
I found the ride to be particularly stable because of the electronic suspension control. Both handling and cornering were good. The Hadley mirrors were appreciated.
A couple items that I found noteworthy included the wheelchair lift mounted above the rear wheels. This makes the coach ADA-Compliant without sacrificing any underfloor luggage space. The air conditioning blowers were outstanding and really moved the air when called for. The modulating water valves in the engine compartment for the heating system are also noteworthy. Instead of typical on/off valves, the BCA45 modulates the flow of hot water to better meet heating requirements.
Debut, Sales, Support
The BCA45 is expected to debut at the UMA Motorcoach Expo in Los Angeles in February, 2014. Sales of the BCA45 will be handled by dealers in several regions around the country. Twenty-four hour support will be provided and dealers will stock the more popular and critical parts. There will also be a larger national parts supply location.
Plans call for a matching 40-foot BCA coach to be introduced in the near future. After this, a transit bus will be introduced and BCA has partnered with a U.S. assembly or manufacturing facility to comply with Buy America. The BCA45 will undergo Altoona testing later in 2014. q