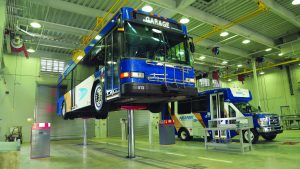 In recent months we have had several inquiries about bus lifts. The improved economy is apparently finding bus companies building and rebuilding garages while some are expanding in new areas. The result is an interest in information surrounding bus lifts for new and expanded garages.
My own experience in running garages generally involved using traditional pits. However, they are now frowned upon by OSHA and are obviously limited in certain areas. The new lifts offer several advantages. Many are based on new technology and have improved our bus maintenance facilities and procedures in the United States and Canada.
Initial research showed that there are so many new developments and improvements with lifts that we needed help to list and explain them. We turned to heavy-duty lift leader Stertil-Koni and their staff, who graciously provided the information we needed to identify and explain different types of lifts. The Stertil-Koni team also helped us in figuring out which lifts are better for various purposes.
While lifts offer many advantages over the old pits, they do require higher ceilings. This is a big reason why newer maintenance facilities are built with higher roofs and ceilings. There are several different kinds of lifts and each has specific advantages and areas where they are best used.
There are several questions you need to look at and answer when selecting lifts for your service or maintenance facility. Lift capacity is very important and can vary by the size and weight of your fleet. Most of the lifts will work better for some applications but not others. Hence, the lift you decided on for doing grease jobs may not be the same lift you want for working on wheels and tires.
Several readers asked about prices, but we have been unable to come up with specific figures. A major part of this problem is that virtually all of the lifts are available with numerous options that will increase capacity, enhance operation or provide specific advantages. Hence, if you need specific prices, you are advised to check with your lift dealer representative about the configuration that is best suited to your needs.
We will cover information on five different types of lifts. This will start with the heavy-duty in-ground lifts including the scissor lift and piston lift. From there we will move on to the platform lift and four-post lift. Finally, we will mention the increasingly popular mobile lift systems. Since there are so many options and alternatives, we suggest that you contact your lift representative for detailed information of your specific needs.
In-Ground Scissor Lift
The in-ground scissor lift is becoming increasingly popular in bus service and maintenance facilities. They can provide a full-rise lift using a shallow below-surface area for the lifting equipment. Modern versions such as the ECOLIFT from Stertil-Koni require as little as 3.5 gallons of hydraulic fluid per scissor. In addition, the hydraulics and electrical components are housed in an above ground, free-standing console for easy access.
This type of lift provides several advantages. It will handle even the heaviest of buses. With the ECOLIFT, each scissor has a capacity of 30,000 pounds. Hence a two-scissor lift will handle today's modern motorcoaches. If you have articulated buses, you can add a third scissor and get your capacity up to 90,000 pounds.
What makes the scissor lift very appropriate for certain types of applications is that the scissors engage the axles while lifting. This leaves the wheels free for wheel and tire work while still allowing access to the underside of the bus. It is a popular choice of lift if you have a bay where you do a lot of work on wheels and tires because the scissor lift allows immediate access to wheels once the bus is off of the ground. It is also a good choice where moving buses in and out quickly is important.
The scissors lift can be installed in an existing bay and even places with high water tables because it needs little or no floor pocket. It also works well with low-floor buses. Expectedly, the scissor lift is not inexpensive, but is a popular choice for heavy-duty applications. The two-scissor lift will range towards an upper five-figure price while the three-scissor configuration will generally bring you in to six figures.
In-Ground Piston Lifts
People tend to equate the in-ground piston lift with high capacity and ease of operation. For many, it is the "top of the line" in lifts. Unfortunately, the piston lift lost some of its popularity because early versions had problems including corrosion and safety. However, recent improvements as seen on the Stertil-Koni DIAMOND Lift are leading a strong comeback in bus service and maintenance.
Peter Bowers at Stertil-Koni explained: "When bus facilities make large capital expenditures for new or retrofitted facilities, beyond lift performance they want to make certain that the new designs employed minimize corrosion problems associated with lift floor frames, reduce maintenance costs and, that the new lift pit covering systems are flush and load-bearing – thereby reducing potential hazards to the lift operator on the shop floor."
What happened in the past is that some in-ground lift floor frames corroded over time, at which point the corrosion expanded and literally pushed the floor frame out of the concrete vault that houses the lifting system. This could cause the lift to become unsafe and unstable. What was needed was new technology to improve safety, performance and durability.
Stertil-Koni says that its DIAMOND Lift has addressed these problems. The upper portion of the lift containment is hot-dipped galvanized, which provides resistance to corrosion at floor level and a proper connection with the foundation. In addition, the lift containments are protected both internally and externally with a special coating that protects against corrosion and electrolysis.
Other features of the DIAMOND Lift include anodized aluminum trench covers flush to the floor that have a skid-resistant surface. They have continuous hinges with no moving parts and are driven hydraulically with an inverted rack and pinion system. These covers can handle a wheel load of up to 13,500 pounds. The improved mechanical locking system includes a hardened nitro-carburized locking rod with increased resistance to corrosion and wear. Components are located in an above ground console for easy access.
The DIAMOND Lift has a capacity of 32,000 pounds per piston with two pistons being more than adequate for standard coaches. A three-piston lift is available that brings lifting capacity up to 96,000 pounds. The price of the two-piston lift will range towards the top of a five-figure number while the three-piston lift will go into six figures. Experts say that the in-ground piston lift can be installed in an existing building but does require some under floor equipment.
Platform Lifts
The platform lift sits in a small recess in the floor. You drive the bus on to the runway that is then lifted vertically. While the platform lift typically has less capacity than the previous lifts, it is still generally adequate for most bus fleets. It tends to offer a price advantage over the scissors and piston in ground lifts.
A disadvantage of the platform lift is that the wheels continue to bear the weight of the bus. Hence, this is not an appropriate lift for wheel and tire work. However, it does make the underside of the bus easily available. As a result, the platform lift is ideal for grease jobs and other types of undercarriage servicing.
The Stertil-Koni version of the platform lift is called the SKYLIFT. It offers a vertical rise without crossbeams or columns that could get in the way of the maintenance and service staff. What is interesting is that there is a Wash Bay version of the SKYLIFT that is designed to resist water, salt and other corrosive road substances. In addition to providing hot-dip galvanized platforms, it also has coated lift supports and a stainless steel control box. This allows bus operators to clean both the exterior and undercarriage of their buses at the same time.
SKYLIFT models are available with a lifting capacity of up to 78,000 pounds, which is more than adequate for most conventional buses and coaches. If needed, a tandem configuration is available that will increase runway length to 96 feet and lifting capacity to 156,000 pounds. Since it only requires a relatively small recess in the floor, the SKYLIFT can be installed in an existing building. Prices are less than the scissors and piston in ground lifts but well into five figures.
Four-Post Lifts
As its name implies, the four-post lift is based on four posts, one at each corner of the vehicle. You simply drive your bus on to the runways and then the posts lift the bus up for service. This type of lift has been very popular with vans and smaller buses because it provides an economical alternative where high capacities are not required. However, the four-post lift is also available in a wide variety of configurations and capacities, some of which are strong enough for larger buses.
The single major disadvantage of the four-post lift is the fact that the weight of the bus continues to be supported by its wheels and tires. Hence, it is not an appropriate type of lift for wheel and tire work. However, the four-post lifts provided by Stertil-Koni offer several interesting advantages. The four-post lift requires no vaults or digging into the surface of the bus bay and hence can be installed most anywhere. It also has a low drive-on height and hence has no problem with low-floor buses. It has an impressive lifting height of 75 inches, which means that even your tallest mechanics do not need to stoop while working under the bus.
Other interesting features on the Stertil-Koni four-post lift include a number of improved technology and safety features. The hydraulic system is electronically controlled using potentiometers to monitor vehicle weight displacement and to make sure that the lifting heights are synchronized between the four lifting points. Safety is enhanced with programmable lifting height, lighting and foot protection.
The runways can be adjusted laterally and the unit can be positioned virtually anywhere. It can be easily added to an existing maintenance or service bay and can be either recessed or surface mounted.
Capacity on the four-post lift varies substantially between the various models. Stertil-Koni's ST 4120 model will lift 30,000 pounds and is suitable for vans and mid-size buses. The model ST 4250 offers a capacity of 66,000 pounds. Stertil-Koni also offers the four-post lift in a tandem configuration. In this case the two lifts are synchronized to lift together. The tandem arrangement is particularly useful for articulated buses. Prices on four-post lifts vary considerably from lower five figures for the lower-capacity lifts to approaching six figures for the tandem four-post lift.
Mobile Lifts
Mobile lifts are increasingly popular in bus service and maintenance. With the standard arrangement you have four mobile columns that lift four wheels on the bus. For articulated buses you can use six columns. Initially, the columns synchronized their lifting through a cable connection. More modern versions are wireless and have state-of-the-art touch-screen control.
Somewhat obviously, the biggest advantage of the mobile lifts is that they are mobile. They can be moved from bay to bay or even set to the side when not in use. Mobile lifts are an excellent answer if you are using a building or bay temporarily or if you need additional maintenance or service capacity only at certain times. While they do lift using the wheels of the bus, there are heavy-duty support stands that can be used if you need to get at the wheels and tires.
One of the latest developments in this area is the new touch-screen control panel offered by Stertil-Koni on its mobile lifts. Dr. Jean DellAmore, Stertil-Koni's president, had this to say. "This solution puts all the operations of the vehicle lift directly at the fingertips of the person who needs the information most – the busy technicians on the shop floor. Further, the ebright Smart Control System is ALI/ETL certified and future updates can be provided via software downloads. Looking ahead, performance tracking will ultimately be captured in a 'black box' environment, and, the touch-screen interface is quick, easy-to-use and intuitive."
Using this new system, Stertil-Koni claims that they can fully synchronize up to 32 mobile columns. That is obviously way too many for any bus I know, but I am aware that these lifts are also used on rail vehicles.
For the ecology-minded, I might mention that Stertil-Koni recently introduced their EARTHLIFT, a "green" mobile column lift. In addition to the fact that the components in the columns are 98 percent recyclable, there is an Energy Retrieval System that permits up to 35 percent more lifting cycles. The closed hydraulic system contains biodegradable oil and the batteries are 100 percent recyclable.
There are huge variations and many options on mobile lift systems. In addition to the number of columns and their capacity you also have several options in control systems and other features. The good news is that the mobile lifts are fairly economical. A basic system will cost you less than $30,000, but you can also get mobile lifts with more columns and capacity to deal with articulated and double-deck coaches.
Accessories
I would be remiss if I did not mention that there are several optional items and accessories that can make things easier for your service and maintenance technicians. Less obvious are things like drive-on ramps, jacking beams and even a second control box. In addition there are support stands that will support a bus once up in the air. This would give you access to the wheels and tires among other things.
In my case, my own experience includes having to deal with those heavy bus wheels and tires. Now you can simply put the bus up on a lift and then come grab the wheel and tire using a counter balanced wheel dolly. Stertil-Koni also offers a heavy-duty transmission jack. I am reminded of the fact that our service and maintenance technicians are rapidly trading in their wrenches for laptops and other new technology. These newer bus lifts are also helping move us into a new era.