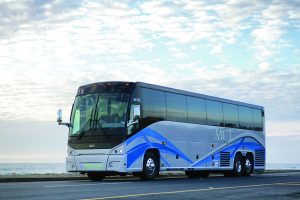 While we have done several test drives in recent months, it has been years since we have covered intercity coaches on the United States and Canadian market in any kind of detail. In recent months we have received questions from readers, staff and trade show attendees about both new and traditional models. As a result, we have appealed to our coach advertisers to provide us with any additional information needed for this article.
The people at Busworld in Europe say that bus sales in the United States and Canada represent only about one percent of the total world market. For the record, China and India lead in bus sales and Europe represents about 10 percent of the world market. What is interesting is that most of the transit buses sold in the United States are produced or at least finished locally, due substantially to Buy America provisions. However, virtually all intercity coaches sold in the United States are built elsewhere. The major exceptions are commuter coaches and MCI's D models.
Equally interesting is the fact that the intercity integral coaches sold in the United States and Canada are easily the strongest and most durable in the world. One of the major reasons for this is because the early heritage of the intercity coach industry in the United States and Canada was tied for decades to scheduled service on rugged roads with questionable weather.
Harry Zoltok at MCI took up the challenge to design coaches capable of running in all kinds of weather on early Canadian roads. This high-quality standard set the pace for U.S. and Canadian coaches that continues to this day. To a large extent this has even spilled over into imported coaches. Those that last on the U.S. and Canadian market are typically the top of the line in their home countries.
I might comment that our staff has been fortunate to visit all of the factories mentioned. This includes Prevost in Quebec, MCI in Winnipeg and Pembina, Temsa in Adana in Turkey, Setra in Mannheim and Ulm in Germany, CAIO in Brazil and BCA/Yutong in China. Each of the companies use different techniques and all are impressive.
Following is our review of current higher quality coaches from our advertisers on the U.S. and Canadian market. We have tried to seek out current information and specifications and we apologize in advance if something gets past us. Any corrections or additions will be provided in a forthcoming issue. For the sake of simplicity, we will start off with the Canadian builders first and then move into the imports.
Motor Coach Industries (MCI)
Founded in 1932 in Winnipeg, Manitoba as an auto repair shop, the company that became Motor Coach Industries built its first bus in 1933 and celebrated 80 years of bus production in 2013 (see the June, 2013 issue of National Bus Trader for the 80-year history). Over the years, buses were also built in Pembina, North Dakota; Roswell, New Mexico and Sahagun, Mexico. In recent years, primary production has once again been concentrated in Winnipeg with the "D" and Commuter models being finished in Pembina, North Dakota. MCI currently offers three major model groups: the popular J4500, the "D" models and their D Commuter Coaches.
All of the MCI coaches use integral construction and stainless steel. One of the more recent developments at MCI was the introduction of the new ZF axles and Bendix air disk brakes in 2014 with the first deliveries prior to the end of the year. Detailed information is available in the September, 2014 National Bus Trader.
J4500
Originally introduced in 2001 as a simplified version of the E4500 "Renaissance" model, the J4500 became the most popular coach on the U.S. and Canadian market in 2004 and has retained that position ever since. Due in large part to numerous improvements in recent years, E4500 operators have increasingly gravitated to the J4500 model. It does seem to have a universal appeal and is used for scheduled service, charters and tours.
The J4500 has the popular length of 45 feet and width of 102 inches. With an overall height of slightly less than 141 inches, the J4500 will still fit through a 12-foot garage door. It is available with the newer clean diesel engines from Detroit and Cummins along with Allison transmissions being available. An article covering our recent test drive of the J4500 appeared in the October, 2014 National Bus Trader.
Recent improvements on the J4500 in addition to the recently updated styling have generally centered around reliability, fuel economy and safety. The latest round of improvements includes the addition of ZF axles with independent front suspension, providing a better ride and a sharper turning radius. In addition, the J4500 now also comes with Bendix air disc brakes.
D Models
The D coach series was originally introduced in 1992 as the 45-foot 102DL3 with traditional MCI styling. Although significantly improved and modernized over the years, some of its heritage and production techniques date back to the Harry Zoltok era at MCI. As a result, the D coach has a reputation for being the "Sherman Tank" or workhorse of the MCI product line. It is popular in heavy duty applications including scheduled service, but it also is used in charter and tour operations.
While the J4500 coach is completed at the MCI Winnipeg plant, the D series, models 4500 and 4000 Commuter Coach shells are built at Winnipeg. Then, the shells are trucked to the MCI plant in?Pembina, North Dakota where they are finished.
MCI's model numbering scheme changed in 2000 and then an update to the D series including a new front design generated new models. Today, MCI's D series in the pprivate sector is represented by the 45-foot D4505 and the 40-foot D4005. Both are 102 inches wide and 137 inches tall, giving plenty of clearance for a 12-foot door. While the 45-foot length is the most popular, some operators still prefer the 40-foot version.
The Cummins engine and Allison transmission are standard equipment. Electronic Stability Control is provided as standard equipment and ZF axles recently became standard equipment on D series coaches. Included are the ZF RL 80A front axle and tag axle as well as a ZF A 132 drive axle. In keeping with the workhorse nature of the D series coaches, the front axle remains the solid beam type.
Commuter Coaches
Commuter coaches are typically used by public agencies to provide a higher level of service on long distance and suburban routes. MCI first got into this field in a big way in 1982 with an order of MC-9 commuter coaches for New Jersey. CNG power was first offered in 1999 and a hybrid option has been available since 2002. MCI is the leader in this market segment.
Today's MCI Commuter Coaches are based on the D series coach design. Both a 45-foot D4500 and a 40-foot D4000 model are offered. Both models are 102 inches wide and 137 inches high. The standard engine is a Cummins, but several power options are available including clean diesel, CNG and hybrid. For more details on the MCI Commuter Coach, see the article in the October, 2011 National Bus Trader.
MCI also sells, supports, services and provides parts for the Setra product line in the United States and Canada. That will be covered below.
Prevost
Prevost celebrated 90 years of bus production in 2014. The company gets its name from its founder, Eugene Prevost, who at the age of 20 went into the woodworking and furniture business in Ste-Claire, Quebec. Over the years the product line changed to buses, the original facility was enlarged and expanded several times and a modern new plant was built on a hill overlooking the community. However, the Prevost company and production has remained in this rural Quebec community and is the largest employer in the area.
Several different models of Prevost buses were built over the years. Transit bus production ended in the late 1960s when the company began concentrating on intercity coaches. In 1978, Prevost moved into the conversion shell market and has subsequently dominated that market. In 1995, Volvo moved into an ownership position that it solidified in 2004. Today Prevost enjoys the advantages of the Volvo organization that include the Volvo engine and state-of-the-art technology. Information on Prevost's history and product line was provided in an article appearing in the January, 2014 National Bus Trader.
Prevost has the most diverse product line on the American market. All of the coaches built in Ste-Claire are standard integral construction utilizing stainless steel. Three different seated coach products are offered including the H and X series built in Ste-Clair and the Volvo 9700 built in Mexico. A Commuter Coach is offered based on the X3-45 design and Prevost also offers three types of conversion shells based on their H and X series seated coaches. Some of the basic details are as follows.
H3-45/H3-41
Prevost H series coaches are particularly popular in higher quality charter and tour service. In addition to attractive styling, the H series coaches offer several state-of-the-art electronic and safety systems. The H3-45 offers the traditional dimensions of 45 feet long and 102 inches wide. Overall height is 146.25 inches. An interesting feature is an optional swap and plug wheelchair lift that can be removed when not in use to provide more luggage space. The power train includes a Volvo D13 engine and either an Allison or Volvo I-Shift transmission. The companion H3-41 model is similar but has a length of 41 feet. This is the only remaining "short" coach in the Prevost product line.
X3-45
There are some who would say that the heritage of the X3-45 model goes back to the introduction of the Prevost LeMirage model in 1977. However, in addition to changes in both length and width, this coach has had so many improvements over the years that it is no longer similar to that original 1977 model.
The X3-45 follows standard industry dimensions with a length of 45 feet and a width of 102 inches. Overall height is 134 inches, easily small enough for a 12-foot door. Included in the power train is a Volvo D13 engine with an Allison transmission. The Volvo I-Shift transmission is optional. Several electronic systems and safety features are either standard equipment or optional. The X3-45 has been popular in scheduled service as well as charters and tours and is operating in the Greyhound and Bolt fleets. The X3-45 is also available in a Commuter Coach version, see below.
Volvo 9700
The Volvo 9700 is built at the Volvo plant in Mexico but sold and supported by Prevost in the United States and Canada. It is based on Volvo's very popular 9700 model built and sold in Europe. Expectedly, it follows the normal coach size on the American market which is 45 feet long and 102 inches wide. Total height is 12 feet and one inch. The standard seating capacity is 54 on Amaya seats. Several safety and electronic systems are standard equipment or optional. The 9700 has been used in all types of operations including scheduled service. See the article in the January, 2009 National Bus Trader for more details.

Commuter Coach
Prevost has offered a Commuter Coach since about 2011. It is based on the Prevost X3-45 and has the same dimensions: a length of 45 feet, a width of 102 inches and a height of 134 inches. It is optionally available with Prevost's removable cassette wheelchair lift with sliding door. The standard drive train includes a Volvo D13 engine and an Allison transmission. Various transit/suburban options are available including a bi-fold entrance door, a fare box, suburban type seating, a passenger chime button and an optional restroom. For more information see the article in the October, 2011 National Bus Trader.
Working toward "Buy America" (BAA) compliance to allow X3-45 Commuter coaches to be sold to municipalities in the U.S., Prevost opened a new assembly line in their sister company's manufacturing facility in Plattsburgh, New York earlier this year. The first coach from that line made its debut at the 2014 American Public Transportation Association (APTA) Expo in Houston in October. Customers were impressed with the curb appeal of the coach and expressed excitement to have a new alternative in the commuter coach market.
Conversion Shells
Prevost has dominated the conversion shell market for decades. Three models are currently offered, all of which are 45 feet long and 102 inches wide. All of them have power trains that include a Volvo D13 engine with an Allison automatic transmission.
The H3-45 VIP model is based on the H3-45 seated coach. It has a wheelbase of 316.12 inches and is now the most popular shell model. It is typically used for high end motor homes and executive coaches but has also been used in other applications.
The X3-45 VIP model is based on the X3-45 seated coach. It has a longer wheelbase of 334.5 inches that also provides more underfloor capacity. The X3-45 VIP model is popular for motor home conversions, executive coaches and other applications.
The LeMirage XLII is based on the previous LeMirage model. The XLII had been the most popular shell model for decades. This also has a lengthened wheelbase of 334.5 inches and hence provides more underfloor capacity. It is geared towards the entertainer market and is particular popular for bunk buses and similar entertainer applications.
Temsa
Temsa Global has been building buses in Adana, Turkey, since the 1980s. It is part of the Sabanci Group, a major Turkish conglomerate. Temsa sells buses throughout much of Europe, parts of Asia and elsewhere. It is noteworthy that Turkey has become a major bus building center and currently supplies nearly half of the buses sold in Europe. Temsa buses are sold in the United States and Canada by CH Bus Sales. More information on Temsa Global is available in the article that appeared in the August, 2012 issue of National Bus Trader.
Temsa originally entered the American market in 2008 by filling a need for a mid-size integral coach. Other builders had given up building integral coaches shorter than 40 feet. While body-on-chassis buses were used by many operators for local trips and shuttles, there was a need for shorter integral coaches with big coach features for longer charters and tours. Temsa first introduced their 35-foot TS 35 in 2008. It was in February of 2010 that TEMSA Global and CH Bus Sales, Inc. began their exclusive distributor partnership.
The TS 35 was followed in 2012 by the 30-foot TS 30 coach and in 2014 by the 45-foot TS 45 coach. Thus, CH Bus Sales now offers a "family" of integral coaches in three different lengths. All of the coaches offer big coach features and amenities including the durability of integral stainless steel construction. Three-point seat belts are a standard safety feature on all three Temsa models. Current plans are for CH Bus Sales to continue expanding their service, support and parts availability.
TS 30
The Temsa TS 30 has a length of 30.8 feet, a width of 94.64 inches and an overall height of 10.89 feet. It is powered by a Cummins ISB-250 HP engine and comes with an Allison transmission with optional retarder. Standard seating capacity on the TS 30 is 34 passengers with a restroom. Features and amenities match the big coaches with integral stainless steel construction, air ride suspension, reclining seats and underfloor luggage compartments. You can find additional information on the TS 30 in the article appearing in the March, 2013 National Bus Trader.
TS 35
The Temsa TS 35 has a length of 35 feet, a width of 100.4 inches and an overall height of 138.6 inches. It comes with a Cummins ISL-345 HP engine and an Allison B500 transmission with optional retarder. Standard seating capacity on the TS 35 is 40 passengers with a restroom. A wheelchair lift is optional but reduces passenger capacity. Design and amenities are similar to the TS 30. More details on the Temsa TS 35 are available in the article appearing in the January, 2013 issue of National Bus Trader.

TS 45
The latest addition to the CH Bus Sales product line is the Temsa TS 45. It follows standard American dimensions with a length of 45 feet and a width of 102 inches. Height on the TS 45 is 11 feet and six inches. The standard power train includes a Cummins ISX-425 HP engine and an Allison Gen 5 B500 transmission with an optional retarder. Typical seating capacity is 56 with a restroom but less if an optional wheelchair lift is included. Key standard safety features on this coach include lane departure ?warning, tire pressure monitoring, fire suppression system, brake pad wear and ?monitoring, ABS, ATC, ESC, RSC and tempered-laminated glass that keeps the passengers safe in the event of an accident. For additional information on the TS 45 see the test drive article in the March, 2014 issue of National Bus Trader.
Setra
Now handled by MCI in the United States and Canada, the Setra product line can claim a very long history going back to the building of wooden boats on the Danube River in Ulm, Germany. These skills were used by Karl Kässbohrer in 1893 to start a wagon building company and by 1911, they were building motor vehicles. Their new integral buses in the 1950s were given the Setra name from the German word "Selbsttragend" which means self-supporting. Setra built the first Eagle coaches for Trailways in the late 1950s. Since then, Setra coaches became identified as the highest quality coaches in Europe and were introduced into the United States in 1984.
In 1995, Setra joined Mercedes-Benz in the new Daimler Benz bus subsidiary known as EvoBus GmbH. Today, Setra coaches are framed up and rust-proofed at the Mercedes factory in Mannheim, Germany and then shipped by rail to the new Setra factory in Neu Ulm, Germany for completion. MCI took over sales, support, service and parts for Setra coaches in mid-2012. For background information see the January, 2013 issue of National Bus Trader. Two models are currently available.
S 417
The TopClass S 417 is 45 feet long, 102 inches wide and 144.5 inches high. It comes with a Mercedes-Benz engine and Allison transmission. One of the more desirable features of the S 417 is its European styling. In Europe, Setra TopClass models are considered the finest available in the charter and tour market. More information is available in the November, 2013 issue of National Bus Trader.
Standard equipment includes independent front suspension, disc brakes, and numerous safety features. The front collision guard protects passengers and the driver in the event of a front accident. The S 417 is optionally available with a second European-type passenger door in the center and a lounge at the rear with a table.
S 407
The ComfortClass S 407 model was introduced to the American market in January of 2011. In Europe, Setra offers three different classes of coaches. Their TopClass models, like the S 417, are the finest available in Europe and are highly prized in charter and tour service. Next comes the Setra ComfortClass that is more of a bread-and-butter coach, similar to the 407. The Setra third class, the MultiClass, is closer to what we might call a suburban bus and is only available in Europe
In dimensions, the S 407 is similar to the S 417 with a length of 45 feet, a width of 102 inches and a height of 144.5 inches. It has the standard Setra "face" rather than the S 417 appearance, but several components and systems on the ComfortClass S 407 are similar to the TopClass S 417 and many parts are interchangeable. More information on the ComfortClass S 407 is available in the February, 2011 issue of National Bus Trader.
CAIO
The Alliance Bus Group is a major bus dealer with locations in Atlanta, New York, Dallas, Orlando, New Orleans and Jackson, Mississippi. Alliance sells a huge variety and number of buses annually with most of them being mid-size body-on-chassis buses. Alliance customers began asking for higher quality buses and particularly for buses that offered similar design and amenities as the large motorcoaches but were economical while also being easy to support and maintain.
This resulted in working with CAIO in Brazil to build buses to meet these requests. CAIO began building buses in 1946. Their main production facility is located in Botucatu, Brazil, about 140 miles west of Sao Paulo. This huge facility is highly vertically integrated with a total staff of about 5,000 and various divisions including thermoforming and glass. Their diverse product line ranges from cargo vans through mini-buses, midibuses, school buses, transit buses including articulateds and intercity coaches. For information on the CAIO factory see the May, 2013 National Bus Trader.
Drive trains and running gear come from Freightliner Custom Chassis in the United States. This provides the dual advantages of American components with increased support and service. In addition to the G3600 and G3400 models previously offered, the new sainless steel model S3645 will be introduced in 2015.
S3645
The new S3645 features stainless steel integral construction, the Detroit Diesel engine and several other changes and improvements. These include improved passenger side windows and providing the ZF ITag steering tag axle that reduces turning radius. Improvements continue with relocated luggage door handles, restroom upgrades, improved ZF independent front suspension, Amaya 3PT seats, large luggage compartments, full LED exterior lights, a new audio video package and improved air conditioning system.
G3600
The G3600 has the standard dimensions of a 45-foot length and a width of 102 inches. Overall height is 150 inches. Normal seating configuration would be 56 passengers plus a tour guide plus a driver. The huge luggage compartment offers 517 cubic feet of storage. Drive line components including a Detroit Diesel engine, an Allison B500 transmission and ZF axles are provided by Freightliner Custom Chassis as a power module but the G3600 does feature integral construction. For our test drive article on the G3600, see the May, 2014 National Bus Trader.
G3400
For those operators who would like a smaller bus but still want big bus design and amenities, Alliance offers the CAIO G3400 model. This model is 36.7 feet long and 102 inches wide with an overall height of 139 inches. The standard seating configuration is 38 passengers plus a tour guide plus a driver with a restroom. Freightliner Custom Chassis provides an XBR type chassis that incudes a Cummins ISB engine, an Allison B300 transmission, independent front ZF steering and full air ride suspension.
Bus and Coach America (BCA)
Bus and Coach America was founded in 2010 by experienced industry people to develop a bus and coach product line particularly geared to the North American market. Engineering so far has concentrated on a 45-foot coach, a 40-foot coach and a mid- or low-floor transit bus. BCA is a licensed manufacturer with their own VIN numbers and plans to produce or complete buses in the United States to comply with Buy America provisions.
Currently, BCA has partnered with Zhengzhou Yutong Bus Co., Ltd. of Zhengzhou, China to produce their buses. Founded in 1963 and located approximately 450 miles south of Beijing, Yutong has four huge plants in Zhengzhou. Regarded as the largest bus builder in the world, Yutong delivered more than 51,000 buses and coaches in 2013. The operation is very modern and highly automated with a very diverse output involving approximately 50 major product lines with more than 597 individual models.
Because of higher quality standards, the BCA coaches are built on a special product line at Yutong. Information on the Yutong facility and a brief test drive of the BCA45 coach appears in the February, 2014 National Bus Trader.
Sales, support and parts in the United States are being handled by selected dealers. Included is Matthews Buses Inc., a family operation since 1967. They sold more than 1,200 buses in 2013 and are the largest Thomas Build Buses dealer. Matthews has seven locations in three states. Support and parts will also be available from BCA.
BCA45
The BCA45 has the standard American coach dimensions of a 45-foot length and a 102-inch width. Its overall height is 11 feet and eight inches so it will fit through a conventional 12-foot door. As with most other big coaches on the American market, the BCA45 has integral construction incorporating stainless steel. An EPA 2013 Cummins ISX engine and an Allison B500R transmission make up the drive train while axles come from ZF and include independent front suspension. The BCA45 is already in production and orders are being taken.

BCA40
Basically a shorter version of the BCA45, the BCA40 has much the same features in a 40-foot length. It is also integral construction with stainless steel. Like its longer sibling, the BCA40 comes with an EPA 2013 Cummins engine and an Allison transmission. It will seat up to 49 passengers. The first of the 40-foot coaches will be showing up in 2015.
To the best of our knowledge, the above information is current and accurate but not guaranteed. Please check with the various manufacturers and dealers for details prior to making a decision to purchase. Any updates will be printed in following issues.