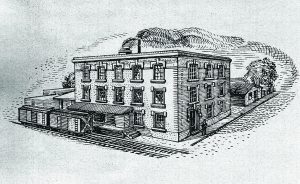 American Seating celebrates its 130th anniversary in 2016. Today, ­transportation seating is its most popular product line with entertainment and stadium seating in second place, but it was not always this way. The company actually started out with school furniture but got to where it is today by a combination of innovation, expansion and moving into new product lines. Following are some of the highlights of that fascinating history.
Company legend holds that the original idea that sparked the creation of what is now American Seating dates back to 1885 at a School Board meeting in Grand Rapids, Michigan. Business and school board leaders Gaius W. Perkins, William T. Hess and Seymour W. Peregrine had an opportunity to sit for two hours in the same seats used by the students. Shifting constantly to get comfortable, they came to the conclusion that the seats used by the students were poorly designed. Board President Perkins determined that from kindergarten through college, the students sat for more than 15,000 hours in these chairs. In the following weeks these three school board members discussed this ­situation.
Due at least in part to the heavily-forested areas of Michigan, Grand Rapids in those years was a major furniture manufacturing center and had a great reputation in this area. Hence, there was some obvious merit when these same three gentlemen on January 5, 1886, hired 50 employees and opened a factory on the corner of Prescott and Ionia Streets in Grand Rapids to manufacture school and office furniture.
The new Grand Rapids School Furniture company was an immediate success because of innovation. Their first product was a unit that combined a student desk at the rear and a chair in front into a single unit made from cast iron and maple wood. It was the first of its kind and revolutionized student seating at that time. In addition to making the company successful, it also helped the new company expand into other areas.
Due to the immediate popularity of its new single unit student desk and chair, the company began moving into other areas. By 1887 they had expanded into seating for churches and other public locations.
Since a great deal of church seating required intricate woodcarving, the company brought over several master carvers from Germany. In addition to working on church pews, these carvers also created statues and other images for the churches.
The immediate success with school desks and church furniture prompted the Grand Rapids School Furniture Company in 1888 to buy seven acres on Broadway Avenue between Ninth and Tenth streets on the northwest side of Grand rapids for a 70,000-square-foot factory building. Operations started in the new building on August 1. The workforce was increased to a staff of 350, making it the largest manufacturer of its kind in Grand Rapids.
In the following year, 1889, the company again expanded by moving into the entertainment seating market. Two early customers included the Tabor Opera House in Leadville, Colorado and the McPherson Opera House in McPherson, Kansas. Innovation again helped in this new market when in 1893 the company introduced the first tilt-back opera chair.
Increasing sales prompted a major expansion in 1899. Grand Rapids School Furniture Company changed its name to American School Furniture Company and then acquired 18 other seating and manufacturing companies in the United States. As a result of this expansion, company headquarters moved to New York and theater seating becomes the primary product of the expanded company. Numerous orders were received, many for 299 chairs. This was a magic number in this era because theaters with more than 299 chairs were often required to have a theater license and special fire protection.
Another development came in 1906 when the company changed its name to American Seating Company and offices were moved from New York to Grand Rapids and Chicago. In the following years the company became very active in providing seating for baseballs stadiums. This included Forbes Field for the Pittsburgh Pirates in 1909, Comiskey Park for the Chicago White Sox in 1910, and Fenway Park for the Boston Red Sox in 1912. In 1911 the company opened its own steel plant and began production of the 101 desk made of steel tubing.
In 1927, American Seating Company moved all of its manufacturing operations to Grand Rapids, effectively going home to the place of its birth. Offices in Chicago soon also were moved to Grand Rapids. In this era, American Seating benefited from the rise of Hollywood and movies. The new theaters and grand "movie palaces" required elaborate seating and American Seating was there to supply it. There were major contracts with Loew's Theatre and the Fox Theatre chains.
It was in 1931 that the remaining offices in Chicago were moved to Grand Rapids. This was the year when American Seating entered the transportation industry by providing seats for city transit buses. By this time the bus industry was starting to come of age with new technology and buses were already starting to replace streetcars in some places. The new tubular-framed "Amseco" Bus Seat 1221 became very popular in transit applications and ended up being the seat of choice in GM transit buses in following years.
American Seating got involved in the War effort earlier than most companies by producing seats for tanks as early as 1937. When the United States entered World War II, American Seating converted to 100 percent war production. At least some of this was seats and included tank seats, pilot ejection seats and even folding chairs. During this period the company produced more than five million chairs for the military. At one time they were making 10,000 folding chairs per day.
The war effort went substantially beyond chairs. Also produced were mortar shell boxes as well as bomber and glider parts. Some items such as mess tables and ammunition boxes seemed appropriate for the company, but others involved new procedures. Included were parts and wings for several different aircraft and gliders. Among the more unusual items that American Seating produced for the war effort were backpacks for the troops and wooden training models of the 40 mm anti-aircraft gun.
In 1951, American Seating acquired the bus seat division of S. Karpen Company. It was founded by German immigrants in 1880 and located in Chicago. This continued the expansion of American Seating into bus seats.
American Seating even played a part in the Civil Rights movement. Included in an order for new buses in 1948 to National City Lines was bus TDH3610-1132, a popular city bus model at that time. These buses were equipped with the ubiquitous American Seating 1221 seats. Along with similar buses, this bus served in Terre Haute, Indiana for six years. Then in 1954, it was transferred to Montgomery, Alabama. On December 1, 1955, Rosa Parks declined to give up her seat on that bus, thus starting what became the Civil Rights movement. See the September 2002 National Bus Trader for more information on this bus.
Two new product lines were added in 1960. American Seating entered the healthcare market. In addition to a newly designed hospital bed system, the company also offered complimentary furniture. American Seating also expanded in transportation by offering motorcoach seating. The transportation seating division would grow to become the company's most popular product line. In 1969, American Seating developed the first cantilevered bus seat for transit buses. This was a major step forward in bus cleaning since this eliminated the seat legs that tended to collect dust and dirt. By the end of the decade, American Seating had established itself as the leading manufacturer in transit bus seating – a position it continues to hold.
The 1970s were a decade of new directions and innovations. American Seating started the decade by making and installing seats for the Mickey Mouse Music Hall at Disney World in Orlando, Florida. 1973 saw the introduction of the first fiberglass transportation seat with quick-release replaceable inserts. ­Transportation seating sales hit an all-time high in 1974. A new product this year was the Acton® chair for the office market. This iconic seat became one of the best selling stacking chairs of all time. In 1975, ­American Seating developed the industry's first stainless steel seat for use in buses. And, in 1977, the company became the leading developer of restraint systems for the transportation industry. This was prior to the implementation of any formalized Americans with Disabilities Act requirements.
The year 1982 marked the end of an era for American Seating. With substantially fewer new schools being built, the company decided to exit the classroom furniture business and sold off the equipment used to manufacture this line. It now depended on sales of office furniture, auditorium and stadium seating plus mass transportation seating providing the rest. In 1984 the company introduced energy-absorbing grab rails at the top of bus seats for added passenger safety. The following year saw the purchase of Otaco, a transit-seating manufacturer based in Canada.
At this same time, the decade of the '80s saw the only two ownership changes in recent history. It was in 1983 that American Seating was purchased by Fuqua, Inc., based in Atlanta, Georgia. However, only four years later, in 1987, Ed Clark led a group of private investors to purchase American Seating from Fuqua, Inc. The new owners established Grand Rapids as the home base of the company. This somehow seemed appropriate since the company celebrated its 100th anniversary in 1986.
Moving forward, the company continued to offer innovations. Vandal- and cut-resistant seat cushions were developed in 1988. This permitted upholstered seating in public transportation. Early orders went to both New York and Chicago. In 1992, American Seating developed a quick-release sliding seat that permitted accommodating wheelchairs and other mobility devices in transit applications.
As transportation seating sales continued to grow, American Seating needed more production space. Hence, the company built a new transportation plant on Seward Avenue that expanded the American Seating campus on the northwest side of Grand Rapids. This new 175,000-square-foot plant opened in 1996. This same year saw American Seating introduce the Advanced Restraint Module (ARM®) as a mobility aid for securement in the transportation market.
Innovation and expansion marked the early years of the new century. The new Transportation Recliner Series of seats was first offered in 2000. In 2002, American Seating introduced its new Metropolitan® transportation seating to the transit bus and light rail markets. Transportation Seating, Inc. from Georgia was purchased in 2003. It held a patent on a fiberglass shell-style seat used on military and prison buses that American Seating wanted. This same year saw a major reinvestment and renovation in the American Seating campus on the northwest side of Grand Rapids. Historic buildings were preserved while modern living and working environments were created. The area became known as American Seating Park.
The following years saw American Seating continue to develop and introduce new products. Comprehensive research resulted in the debut of the InSight® bus seat in 2006. It offered the largest personal sitting area in the industry and soon became the best-selling bus seat in the world. Inspired by InSight, two years later American Seating introduced the Vision® seat. This new model offered the dual benefits of engineering aesthetics as well as superior vandal resistance.
In 2009, the company moved into the next generation in stainless seating. American Seating offered the new Premier® motorcoach seat that improved safety. Greyhound Lines became the first to install the new seat in its coaches. Two contracts were noteworthy at this time. A major renovation of seating in Fenway Park took place in 2009. The original 1912 wooden seats from American Seating were replaced with new technology. The following year the popular InSight seat was selected for the 2010 Winter Olympics Games SkyTrain in Vancouver.
American Seating celebrated its 125th anniversary in 2011. It could claim to be the leading manufacturer of mass transit passenger seating with seats in every major city in America from Los Angeles to New York as well as Grand Rapids.
This year, 2016, marks the company's 130th anniversary. Transportation seating is the top-produced and purchased product. The newest development is InSight-Prime®, a new fundamental solution without fabric inserts, back panels and associated hardware. This new seat reduces vehicle weight and increases fuel efficiency with a weight savings of more than 25 percent. It adds complimentary color inserts for an enhanced aesthetic value while maintaining cleanability, weight and cost advantages. American Seating also continues to be a major seating supplier to major league sports stadiums, arenas and concert halls.
In addition to simply offering good quality seating products, one of the reasons for the success of American Seating in the transit market is its compliance with the Buy America provisions. Federal funding requires that 60 percent of the product be made in the United States and final assembly be done in the United States. Being based in Grand Rapids makes this easy for American Seating.
Almost all of the components used by American Seating for its seats come from Michigan and neighboring states. The only exceptions might be a few hardware items and some fabrics from foreign manufacturers that are specified by some customers. Their lowest U.S. content product is in the high 80s to low 90s percent range. Hence, it is not surprising that approximately 75 percent of transit service bus seats in the United States are made by American Seating.